CIS Top 10 Performers – #TheCBGBunch: No place like home
Welcome to the third season of The CBG Bunch, a specialized column dedicated to the CIS season. Every week, CBG parses through the CIS box scores over Sunday brunch while looking for #TheCBGBunch, a group of the top performers of the weekend's action.
This week in #badpuns, we commend the few young men out there who managed to excel in their opponents' gym. Basketball is a hard enough game to play without having to do so behind, figuratively, enemy lines. You don't simply mess with the radio if you're sitting in the passenger seat of the car—but evidently, many in the CIS do. Keep doing you, folks.
Apologies to Western's Greg Morrow, Manitoba's AJ Basi and Brock's Dani Elgadi. You're all great players in your own right; life just isn't fair and you can blame me for it. #ThereCanOnlyBe10
Javon Masters, UNB Varsity Reds: 69 combined points, 12 combined rebounds, 5 combined assists, 4 combined steals 
You know that thing you see soaring these days when you look up in the sky, which you first believed it was a bird, then a plane, then Superman, then none of those things? It's Young Icarus who, now that the season is winding down, is nearing the peak of his ascent toward the Sun, this most treacherous of mistress.
In now his third season, Young Icarus has already made history and, after a small (relatively) step back in his sophomore season, he's now opened his diary to us for what is shaping up to be his best season yet (and good for 10th in the country). Since his arrival in the CIS, Young Icarus has scaled back a tiny bit on his three-pointers and free throw attempts and, instead, has simply become dead eye from the field: he's nailing half of the 18+ field goals he takes per game in quite the memorial—considering what he did to the team last weekend, sorry for this pun—to efficiency.
Young Icarus is wiser and has never been better, which is another way of saying that his feeble wings are no more. You need them when you try to reach the Sun.
Lucas Mannes, Trinity Western Spartans VS Brandon Bobcats: 36 points, 6 rebounds, 5 assists, 5 steals 
Life's like a box of chocolate but if you're a Sparta in SPARTA!, that holds true only in so long as that whenever you swing your sword you never know whose skull you may crush. Life's a battle rather, that's the mantra when you live in SPARTA!—fight until your very last breath, too, and when it's that last breath then steal that of your combatant just before you kill him, to extend your life.
Spartans are formidable warriors, but even Gods sometimes suffer through ignominious times; punch and fight, but still you lose the battle more often than not sometimes. Motivation may be at its nadir, but Spartans know no other way—because maybe next time life puts an opponent just as wounded as they are in their way.  When that happens, Spartans pounce and let the man Lucas Mannes do his thing.
Ammanuel Diressa, Ryerson Rams at Nipissing Lakers: 30 points, 5 rebounds, 3 assists, 1 steal 
If this second half to the 2015-16 season is shaping up to be the (possible, because I wouldn't dare jinx it) coronation of our Ryerson Rams, in a more specific sense it has to be considered the Ammanuel Diressa breakout party.
That was him a week ago, leading him to deservedly be named the CIS player of the week. This week? Well, the newest member of this Rams team was equally unconscious and led Ryerson to yet another win.
Ammanuel Diressa (Toronto) had 30pts,5rebs,3asts,1stl,29 mins in @RyersonMBB's 97-68 win over Nipissing. #CanBall pic.twitter.com/mblZ65SjWJ

— CanBallRay (@CanBallReport) January 31, 2016
S/O to our guy Ray Bala for sending us this one (and seemingly 163,937,173 others) on Twitter. All that's left for Diressa? A nickname. Might we suggest he rely on his initials? A.D., as in All Day.
https://twitter.com/bushleaguenorth/status/693010981920886784
Alexandre Leclerc, Laval Rouge et Or at UQAM Citadins: 38 points, 10 rebounds, 1 steal 
Those who looked, like I did, at the CIS boxscores of the past week may have thought that the Citadins and Rouge et Or faithful must have been off and popping in light of such drama with this triple-overtime game. But the truth is that the Laval Rouge et Or are used to all this: of the team's 12 games in 2015-16, all but two have been settled by less than 10 points. As they say: good for the fans, not so much for the coaches' nerves.
One man who is both good for Laval fans and coaches, of course, is Alexandre Leclerc: we've dubbed him "The Scholar", and not just because he's our 33rd-ranked player in the CIS.
@Casey_Dulson @CanBallReport @rougeetor @NorthPoleHoops @RealCBG I respect their effort to put a Top50. No Quebec guys in top 30 is shameful

— Peter Yannopoulos (@PeteYannopoulos) January 31, 2016
Still, to some, that ranking is way too low. Duly noted, Peter! Duly noted.
Sukhpreet Singh, Queen's Gaels at Carleton Ravens: 39 points, 6 rebounds, 4 assists, 2 steals 
The aficionado readers of the #Bunch, a group in which we include mostly everyone because we are nice like that, will surely recall that we have long been big fans of Sukhpreet Singh. In part, this is due to the fact that we believe the sixth-foot-two fourth-year guard may be more of a man than we ever hope to be; the 7-5 Gaels are far removed from their 6-1 start to this season, but Singh is still leading the charge…and he's twice torn a hip labrum!
This past weekend, the Queen's Gaels were destroyed 99-81 by the Carleton Ravens. That doesn't mean Singh, with his 39 points on only 26 shots, wasn't one of the week's 10 best performers.
There's a meme for that.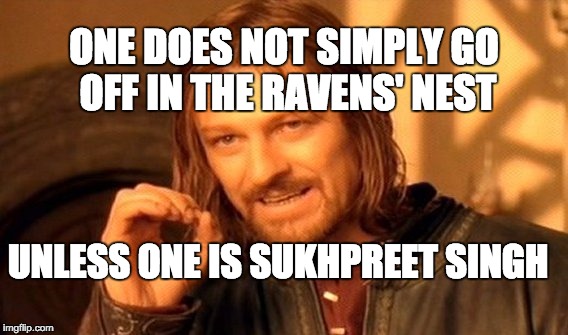 Meshack Lufile, Cape Breton Capers VS St. FX X-Men: 32 points, 10 rebounds, 3 blocks 
It's already a second nod in this 2015-16 season for the Draymond Green of the CIS and, again today, we'll explain that this comparison is merely one of looks and not so much of playing style on the basketball courts. (As we've said last time, even that looks comparison isn't so great.)
https://twitter.com/CanadaShack12/status/686892448845565953
And yet, while the Golden State Warriors fan in us simply marvels at the philosophy of the GState forward, we believe that maybe there is a worthy comparison between Dray' and Meshack somewhere.
https://twitter.com/CanadaShack12/status/692888246989094913
If life were fair, Lufile would have received the honour of this week's Big Man game—but, as we've said often, if you're looking for something fair, head somewhere else.
Bacarius Dinkins, Lakehead Thunderwolves VS McMaster Marauders: 27 points, 15 rebounds, 1 assist 
Because if Lufile was only the poor man's Big Man this past weekend, it's because of Bacarius Dinkins. Not only did the American help his Lakehead team overcome the fourth best team in the CIS in McMaster, he did so not once but twice. In the same weekend! We'll celebrate here the first of his two performances because a 27/15 stat line is a legitimate force, but you really can't go wrong either way.
Dinkins has quite the following on Twitter too. Look he's made the #Bunch two weeks in a row now—and twice we've received feedback.
@NorthPoleHoops @RealCBG Pic of BD from game vs Algoma in Oct: pic.twitter.com/MKkkomcZsi

— Lakehead Athletics (@LakeheadTWolves) January 25, 2016
@CanBallReport @NorthPoleHoops @RealCBG I'll send you some more recent pics fellas!

— Lakehead Athletics (@LakeheadTWolves) January 30, 2016
Mike L'Africain, Ottawa Gee-Gees VS Queen's Gaels: 30 points, 7 rebounds, 7 assists, 5 steals 
Have we, all this time and all these years, maybe under appreciated and underrated the great Mike L'Africain? We'll be the first to recognize that the young man has been one of the most fun and insightful interviewees in our time working for NPH—but what about the #Bunch? A quick search for his name on the site lets us know that, seemingly, Mike hasn't received a nod in this space in almost two years. Really?
This is silly. Silly of us. Silly of me. (because damn right I'll bring out the first person for this.)
What I'll say is that in our work researching and preparing for our CIS Top 50 Players Rankings, one name kept coming up again and again as we talked with coaches: that of Mike L'Africain. At No. 7 on our list, Mike may be underrated for all we know.
Brandon Brine, Lethbridge Pronghorns VS Alberta Golden Bears: 37 points, 6 rebounds, 3 assists, 1 steal, 1 block 
Lo and behold, take a look at Brandon Brine's stat line from the Pronghorns' win over the Golden Bears! We've seen players feeling it from the minute they step on the floor, but Brine's game was something else: in only 22 minutes of action, the fifth-year Aussie took 20 shots, drained 13 and scored an insane 37 points.
Brine didn't have the highest point total of the week, but only because he basically sat half of the game. As far as bad man games in the CIS this season, this is it. #NoPunsAllNet
Jelane Pryce, Winnipeg Wesmen VS Saskatchewan Huskies: 29 points, 10 rebounds, 2 assists, 1 block 
Heyyyy look who we end this week's edition of the #Bunch with; it's our old friend Jelane Pryce, the artist formerly known as the Ryerson Rams' secret weapon (circa: 2011) and now killing it in Canada West with the Winnipeg Wesmen. You've moved on to the 'Peg, Jelane, but it's all good; there are no puns here, just love. *Salute Emoji*
Follow Charles Blouin-Gascon on Twitter @RealCBG & NPH @Northpolehoops