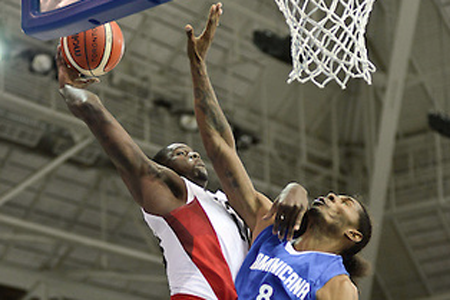 Senior Team Canada
Team Canada
Road to Rio Paved at Pan Ams
With Andrew Wiggins, Cory Joseph and Nik Stauskas in camp, Canada's basketball team has perhaps the most stacked roster in program history with an Olympic berth on the line.
Canada Basketball recently unveiled their training camp roster ahead of the FIBA Americas and it is loaded with NBA talent to back up the mix of veterans and overseas pros Canada featured at the Pan Am Games.
The tournament takes place in Mexico City, Mexico from August 31-September 12. Top two teams qualify, and three more enter a penultimate tournament.
This will be a deep team despite a few missing NBA players, that will bolster the relatively thin bench that managed to grab silver at the Pan Am Games with an increasingly tight rotation.
One of the players notably absent is Tristan Thompson who remains at an impasse with the Cleveland Cavaliers over a lucrative contract extension. Without a defined contract, Canada Basketball would be unable to secure insurance for the rebounding forward who stepped into the spotlight as a hustling game-changer for the Cavs during the 2015 NBA Finals. Thompson averaged a double-double with Canada during the 2013 FIBA Americas.
Point guard Tyler Ennis will also miss the qualifier while he recovers from a shoulder injury.
But the luxury of having ten NBA players on the roster is something Canada has never had before. It may not be quite time yet when an NBA player gets cut from Team Canada, but the possibility is real.
Aaron Doornekamp and Carl English were named to the training camp roster and were starters in Pan Am play. Brady Heslip and Jamal Murray were offensive leaders on that team and are back again. A couple of these players making the FIBA team would mean an NBA player gets cut.
Murray and Phil Scrubb are the only other point guards on the roster outside of Joseph with Junior Cadougan left off this roster, so expect one or both of them both to make it.
Sim Bhullar was a fan-favourite but limited in Pan Am action and could be on the bubble unless Jay Triano can come up with more plays for the 7'5″ centre.
Andrew Wiggins will be the biggest star for the team as the reigning NBA Rookie of the Year dons the Team Canada uniform for the senior team for the first time. He's looked excellent in off-season workouts and should shine as Canada's focal point.
Defensive issues plagued the Pan Am team and the thin rotation had something to do with it. Thompson would have helped here, but Anthony Bennett and Andrew Nicholson now have frontcourt reinforcements in Rob Sacre, Kelly Olynyk, and Dwight Powell. Melvin Ejim turned a two-way performance at Pan Ams into a contract with the Orlando Magic and is Canada's most versatile defender.
Scrubb just signed a pro deal in Greece and Utah Jazz draft pick Olivier Hanlan just signed with a top club in Lithuania so their availability is less clear.
Stauskas would be an upgrade over Heslip on the defensive end but the shooting ability of both in tandem would form a Splash Brothers North that would space the floor and rain havoc.
Jamal Murray dominated the headlines during the Pan Am Games thanks to his steady play and ability to rise to the occasion. He scored 22 points in the fourth quarter and overtime of the Semifinal game to lead Canada over the USA. Whether he joins this team or not will depend on when he's expected at Kentucky where the rest of his teammates are already on campus and classes start during the FIBA Americas.
Trying to select a group of starters from this unit won't be easy but Bennett and Nicholson have proved themselves and may remain in the frontcourt. Cory Joseph is the no-brainer point guard, and Andrew Wiggins is on one wing. That leaves one spot for Nik Stauskas to bring spacing and shooting, unless Triano is eager to bring back one of his veterans with overseas experience.
When action kicks off with a five-team exhibition tournament in Puerto Rico from August 23-26 at Tuto Marchand, we'll get a glimpse at the most stacked squad Canada's ever featured on the hardwood.
It's also a glimpse at the future.