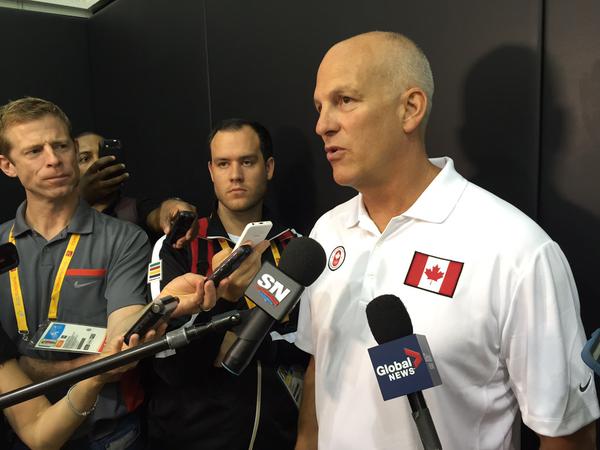 If you missed it, the women's team provided Canada with something to cheer about through the past week culminating in an exciting gold finish beating the Americans.
Tough act for the men to follow.
With a starting lineup of Junior Cadougan, Aaron Dornekamp, Carl English, Anthony Bennett, and Andrew Nicholson, much of the focus has been on who is here for the Pan Am Games roster as much as who is not.
Canada's men have something to prove so here's what you need to know about Team Canada:
The Stars
Anthony Bennett, 6-8, F; Brampton, ON, Minnesota Timberwolves (NBA)
Teammate of Andrew Wiggins in Minnesota and the 2013 first overall pick in the NBA draft, he's been a bit part on two NBA rosters for the Cavs and Wolves. Injuries and conditioning have been a factor. As a focal point of the Pan Am roster he'll be relied on to score and could boost his pro stock with a strong showing here.
Andrew Nicholson, 6-9, F; Mississauga, ON, Orlando Magic (NBA)
A high-scoring member while with Canada in past international competition, Nicholson has become lost in the fold in Orlando but should be a major weapon for the Pan Am roster. A sweet shooter with size that will excel under international rules.
Sim Bhullar, 7-5, C; Toronto, ON, Sacramento Kings (NBA)
Canada's shot-swatting giant. With no defensive three-in-the key rule in international competition expect Bhullar to linger in the paint and reject all attempts around the rim. If he's able to establish post position he could be a weapon on offence as well. With the Reno Bighorns of the NBA D-League he played an up-tempo style close to the International style.
The Schedule
Tuesday, July 21 – 6:00pm ET
Canada vs Dominican Republic
Wednesday, July 22 – 6:00pm ET
Canada vs Argentina
Thursday, July 23 – 6:00pm ET
Canada vs Mexico
Friday, July 24
1:30 pm or 6:00pm Semi Final
Saturday, July 25
11:00am – Bronze medal match
4:30pm – Gold medal match
Recent Results
2014 – No place at FIBA World Cup (Euro trip)
2013 – 6th @ FIBA Americas
2012 – No place at Olympics
2011 – 6th @ FIBA Americas
2011 – 6th @ Pan Am Games
2010 – 22nd @ FIBA World Championships (0-5)
The Last Word
Nash: "This is hopefully going to be an opportunity for them to take their game to another level, gain confidence and have them enjoying basketball where they can play without fear, without doubt. I've seen a lot of players springboard themselves into a confident, more whole player."
Triano: "Our goal is to be as good as we can but if we can transform someone's career then that bodes well for our program."