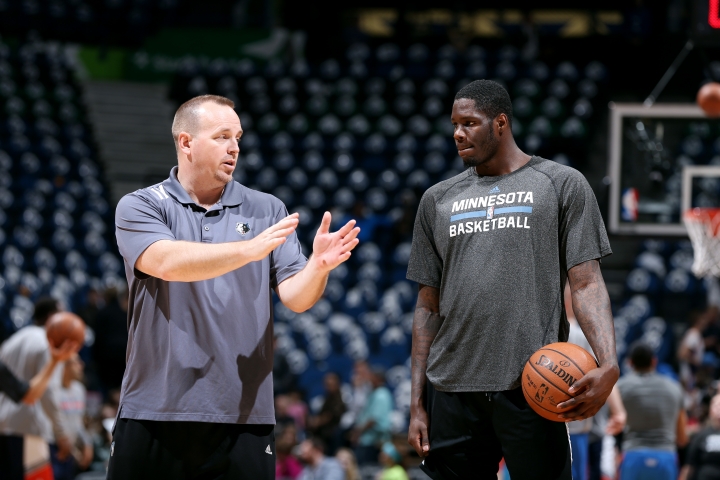 Raised by Wolves: Part II
The fine folks over at Punch-Drunk Wolves have taken in every Minnesota game this season. While we at NPH have been closely tracking the careers of Canadian first-overall picks Anthony Bennett and Andrew Wiggins for years, these guys have the definitive eye-test for how they've developed this season with the Timberwolves.
In an email conversation back and forth with Andy G and Patrick J from PDW, we dissected the development of Bennett's and Wiggins's games, our first impressions of the would-be stars, and where their potential could take them.
PART II – HOW HIGH IS BENNETT'S CEILING?
DG – (continued from Part I)…This is great. And while we're being frank let's talk more about Anthony Bennett.
Here's a guy I pushed for really hard when I was working with Canada Basketball and his stock kept rising and rising. I still never imagined first overall, and my reaction was even wilder than Bill Simmons's. 
I'm concerned about him. That's the nice way to put it. Frankly, I'm concerned he won't be in the league in a couple years if he can't find a better rhythm and better situation.
Your dissection of Bennett with Canis Hoopus was the impetus for this article and most of the discussion happens there but I'm wondering what you both think Bennett's ceiling is.
My take – his midrange game will always be there so if his physical conditions whatever they may be rob him of athleticism that boosted his profile then he can still have a career. The problem is that he can't just be a jump shooter, especially so early in his career. So, best-case he gets on a second unit somewhere that can put him in the high post to power his way to the bucket when defenders come up on him, and if they sag he knocks it down. It's not a very encouraging ceiling and I don't know if he reaches it in his current situation.
I hope your outlooks are rosier?
AG – I'm a little less discouraged than you are about AB, primarily because I saw him make strides as a defender throughout the course of this season. As long as he can play competent defense — and it began to look like he can — he'll become a good enough NBA shooter to deserve floor time. It may not be this year or even next year, but players with his body and shooting mechanics are going to be NBA players.
It would really help him, I think, if he played for a coach who prioritized spread pick-and-roll action, and shooting threes instead of mid-range jumpers. Bennett has a shooting form that would easily extend out to the three-point line, with enough practice repetitions.  When you see players like Paul Millsap suddenly add a three-point shot in the middle of his career, it helps highlight how easy that can be. Bennett should try to do that as soon as possible, as it will make him a more efficient scorer.
Bennett is more limited (than Wiggins), but has potential.  Right now, his defense is much better in the post than it is trying to chase shooters around on the perimeter.  On offense — on the Timberwolves/in the NBA anyway — he's a pretty careful player who can dunk on people from time to time, but is mostly comfortable standing and shooting from 18 feet.  However, one area where Bennett has pleasantly surprised is in passing from the top of the key (where he likes to shoot from).  He's delivered some nifty passes for assists to cutters, and maybe Team Canada will be able to work some of that into their sets.
https://www.youtube.com/watch?v=CxNWA6E6JZA
I don't mean to punt on the question you posed, but it's really hard for me to say what his ceiling is because I still don't think we've seen him look comfortable at this level yet. I think he will get comfortable, and at a point when he can just "play his game" (whatever that is exactly) and then we'll have a better idea.  Will he be a pick-and-roll forward, or a stretch four? Maybe he'll just do the mid-range jumper thing all the time? I don't know, but I do know he is a pretty special athlete with some important skills.
PJ – Bennett remains a puzzling case. Personally, I think it's too early to write Bennett off. I think that with the right coach–and it might be a head or assistant coach somewhere else–AB could rebuild his confidence and that his mentor could shepherd him toward realizing his potential.
I'm less confident that will occur in Minnesota than I was when the Wolves traded for Wiggins and Bennett, but I'm somewhat more confident than I was, say, a month ago. The reason why? Bennett now has a viable mentor in 'Sota, Kevin Garnett, who has built his career off of competitiveness, heart, and smart basketball. Unfortunately, Bennett has been injured since KG returned to Minnesota. It will be interesting to follow their on and off-court dynamics as possible.
Here's hoping that both Wiggins and Bennett will achieve great things in Minnesota.