Duke, Kentucky "Very serious" in Recruitment of Canadian Jamal Murray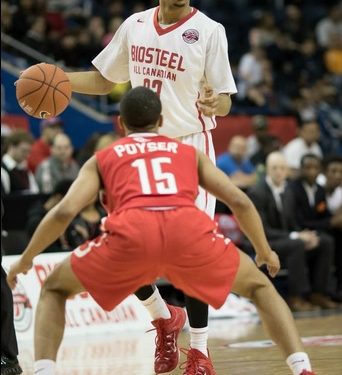 Jamal Murray is on a journey to greatness.
Some may think I'm engaging in hyperbole, however to understand the psychology of Murray is to understand his upbringing.
I give major credit to his father, Roger, who has raised his son in such a positive environment at a very young age, exposed to little technology.
The 6'5 point guard is the toughest player I've ever been around in my eight years of scouting on the Canadian Basketball scene.
The advantages he has over most of the competition is all mental.
Fresh off a hectic week where Murray collected MVP performances at the Nike Hoop Summit and the Bio Steel All-Canadian Game, he has been receiving extra attention from the Kentucky Wildcats and the recently-crowned NCAA national champion Duke Blue Devils.
Duke and Kentucky are "very serious" in their recruitment of Jamal Murray, Roger told @NorthPoleHoops.
Despite false claims over social media, Murray also confirmed that neither school has offered at this point.
Oregon, Illinois, Michigan, Michigan St are some of the other programs that have been in the mix.
Stay tuned on #NPH as the recruitment process progresses for the Kitchener, Ontario product.