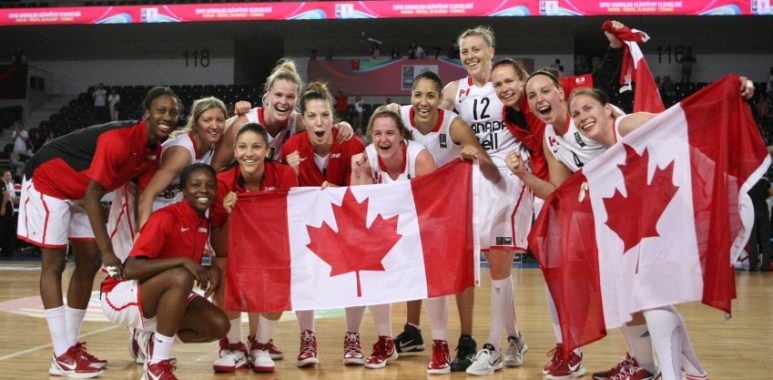 Senior Team Canada
Team Canada
Canada Basketball Women Host FIBA Americas
The 2016 Olympics in Rio de Janiero are coming closer on the horizon for Canada Basketball's senior men's and women's teams, but first they must qualify at this summer's FIBA Americas tournaments.
Canada will have home court advantage for the Women's FIBA Americas, to be played August 9-16 in Edmonton, Alberta, and the opponents they will play have now been unveiled.
Natalie Achonwa, Courtney Pilypaitis, Nirra Fields and Kia Nurse are among those expected to be part of a team on the cusp on a big Olympic breakthrough.
And with the PanAm Games in Toronto July 16-20, the squad will have plenty of time to come together before they shoot for international basketball's biggest stage.
More on the FIBA Americas draw per excerpts from Canada Basketball media release:
"We're extremely proud to be hosting this international event with our partners City of Edmonton, Province of Alberta, and Sport Canada. It's an incredible opportunity for our national team to compete for an Olympic berth on home soil," said Michele O'Keefe, Executive Director, Canada Basketball.
 
"It also provides a platform to foster alignment within our national structure, working with Basketball Alberta, the Saville Centre and the University of Alberta, to support and celebrate our women's national team."
Dominican Republic, Cuba, Chile, Puerto Rico and Canada will compete in Group A, with US Virgin Islands, Argentina, Ecuador, Venezuela and Brazil, in Group B.
 
After their 5th place finish in the 2014 FIBA World Cup in Turkey (the best finish in 20 years), Team Canada hopes to ride off the momentum in Edmonton this summer.
 
"This draw is a great kick-off to what will be an incredible event for our senior team. It's a privilege to compete on home soil, especially on our home court in Edmonton," said Denise Dignard, Director of Women's High Performance. "We welcome our FIBA Americas counterparts to Canada and look forward to showcasing Team Canada to the world."