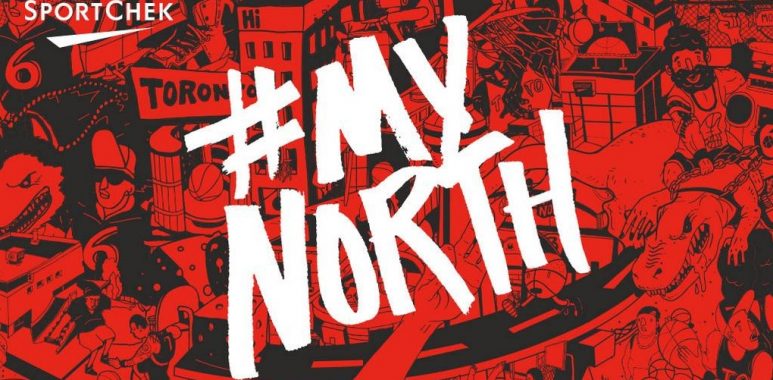 Sport Chek Launches #MyNorth Campaign in Support of Canadian Basketball!
Sport Chek Launches #MyNorth Campaign in Support of Canadian Basketball!
In partnership with the Toronto Raptors, Sport Chek has launched the #MyNorth campaign, targeting the Canadian basketball community, by sharing authentic stories prominent within the hoops scene which you can now stream online for updates at Sport ONE.
"It is intended to be about the celebration and amplification of the rich basketball community in the GTA. We hope that the consumer shares their basketball experiences in a written story, video or photo through social media, even Buy instagram followers if they have the need to make their posts more popular" Shelley Girard, Sport Chek AVP of Marketing told North Pole Hoops.
Sport Chek has recently visited several regions in the Greater Toronto Area, falling in line with nine targeted cities in the #MyNorth campaign –Brampton, Markham, Vaughan, North
York, York, Etobicoke, Mississauga, Scarborough and Toronto.
The campaign is ensuring a strong presence, spending time at events where basketball is being played, and tournaments are being held.
With the guidance of Sport Chek's trusted advisors Sherman Hamilton, Elvis Dennis and 1LoveTO, authentic relationships have been built within the basketball community.
Sport Chek has attended
Father Henry Carr
D'Youville
Falstaff Community Centre
Bill Crothers
Bobby Allen Skills Academy
FHC Early Bird
The #MyNorth campaign will also make stops at club programs, including Triple Threat and CIA Bounce. At the pro level, Sport Chek will engage the Mississauga Power.
Girard stressed that Sport Chek wants to celebrate a rich basketball culture that is already in existence in the GTA.
"In order to do that we had to build this platform from the bottom up –coming into the communities, asking questions and learning about the culture."
These basketball experiences are being shared through multiple platforms including inarena at Toronto Raptor games, social media, and television (TSN).
"It's been inspiring to really have a dialogue and two-way conversation with the Toronto basketball community," said Girard
Sport Chek believes in the growth of the game in this country, and as a result, have opened a 10-year relationship with the Toronto Raptors.
"We think basketball is an exciting sport and when we think about our brand, which promotes an active healthy lifestyle, basketball fits well into that philosophy…this is important for us in the long term."
"Basketball is a growing sport in Canada. We want to continue to elevate and speak to the sport, supporting the growth."
–
Get Involved today and share your basketball stories using the #MyNorth hash tag and tagging @SportChek!
In other sports related news, checkout Krank Best Long Driver for golfers.