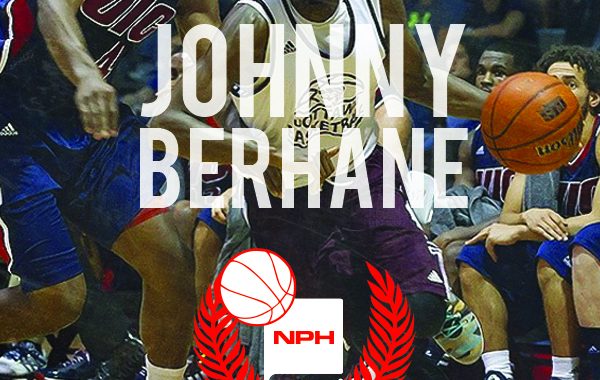 Johnny Berhane – NPH CIS Diary #1
The NPH CIS Diary provides an opportunity for prominent Canadian University players to share their journey with Canadian basketball fans, who receive an inside look on the life of a high level post-secondary student-athlete in Canada.
–
Hey guys, just wanted to thank the NPH group for asking me to share my thoughts and some of my journey throughout my fifth and final year at the University of Ottawa.
A little bit of a background on myself; I'm a pretty simple dude I was born and raised in Ottawa, Ontario and graduated from Lester B. Pearson Catholic High School before I came to OttawaU at 17. I grew up playing all kinds of sports and kind of came to a crossroad in grade 10 where I knew had to pick either soccer or basketball; and that summer I chose basket-ball, hopefully it was the right decision! I currently live with my teammates Mike Lafricain, Matt Plunkett, and Nick Jordan close to campus where our days mostly consist of going to the gym, class, library, and a bunch of Super Smash Bros. on N64… We might be ranked in the top 10 in the world in that game!
We were lucky enough to have a long drive last season where we were able to come up with an OUA banner, and fell short in the CIS championship game to Carleton. Nonetheless, that's in the past and it's time to use everything we've learned from our past couple of seasons the up's and down's and make sure we can build off that heading into this season. We still a have a long way to go as a team but guys are committed to putting in the work and being apart of that national atmosphere always makes guy itch for it a little more the next year. In my opinion were playing in the toughest conference in the country (maybe being a little bias), where the talent is definitely not short with some great players, and coaches ready for some wars.
Definitely one of the cool things about going to OttawaU is being able to play against some NCAA competition near the end of the summer. Not only do we get to have our team in early to practice, but also get to play against some tough teams. Coach Jimmy has done an amazing job of fixing some of our culture that was lacking and that meant not just being excited to play against NCAA competition, but it meant let's go out and beat some NCAA teams. We were able to come up with wins versus Indiana, Vermont, and Chicago-Illinois and fell short to Memphis. Of course, it's not just our team that plays against NCAA teams; and teams like Windsor, Carleton picked up wins, and the scheduling with CIS vs. NCAA teams keeps increasing. (CIS IS ON THE RISEEE)
Heading into my final year I definitely feel it brings a lot of emotions filled with excitement, hype and some nerves. Our CIS pre-season is wrapping up as we got some good competition from some out of conference teams in an athletic and high energy St.FX team as well as a strong and physical Bishops Gaiters team that should both make strong runs in their conferences.
Season opens up Nov.7th at our place (Monpetit Hall) where we play a talented McMaster team that's rolling right now in pre-season, and a young Brock team that shows some good promise and a star with their OUA rookie of the year.
On that note, I gotta run, but good luck to all the ballers out there on and off the court this year! And stay tuned!
Jayyb.
(@Johnnyberhane)