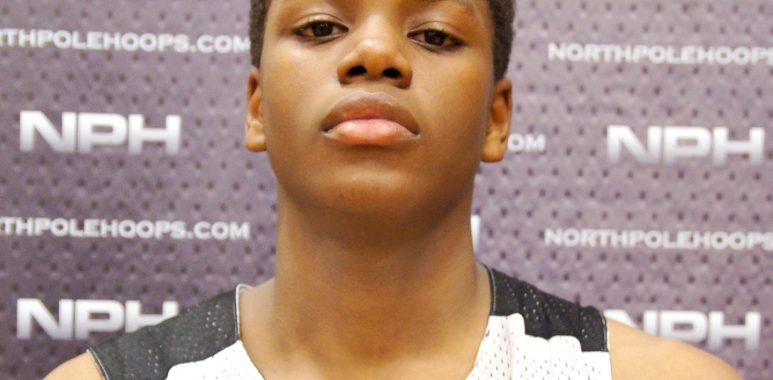 Alain Louis On NPH National Radar, Thetford Invitational Semi-Final Set
THETFORD MINES, QUEBEC–The 2014-2015 Canadian basketball season opened with an overtime thriller between Thetford Academy's junior team and out of province visitor Athlete Institute.
Out here in south-central Quebec there isn't really all that much going on, but there is a level of basketball that got us to drive eight hours.
Athlete Institute (Orangeville, Ontario) and Lee Academy (Maine, USA) also made the trek as the out of province/country teams in the tournament.
Thetford's Top Producers
Thetford has started off the tournament rolling through competition, with their junior team beating Athlete Institute in overtime 100-91 and then going on to take a win over College Ahuntsic. The seniors have now won two games; one over Lee Academy and another over Cegep Garneau to defend home court.
No shortage of highlights in any of the games mentioned. Both Thetford teams have some bouncy pieces that were catching lobs and pinning shots against the glass.
Theatrics aside, it's been Alain Louis who is establishing himself a consistent playmaker.
Never rattled, always poised and in control, Louis is proving to be one of the top 2017 PG's in Canada.
Teammate of Louis, Borys Minger has been the other x-factor in this operation. He is a tough guard because of the combination of strength, speed and athleticism.
On the senior side of Thetford Academy, Narcisse Kalamba and Joel Tshimanga are carrying the load and scoring in bunches.
Kalamba is proving to be one of the top shooters in the Canadian class of 2016, a 6'6 guard with a quick trigger and effortless release.
As for Tshimanga, there is no one to defend him at this particular tournament  due to his size and versatility. Tshimanga has two games with 24+ points and one with 16 this weekend. A very intruiging prospect that we will continue to track.
Athlete Institute Finding Identity
This tournament is the first of the season for most teams, a place to build chemistry, create identity and learn from mistakes. Athlete Institute is doing just that.
Head Coach Brandon Lesovsky of AI has some talented pieces at various positions, it's a matter of getting them to buy into "togetherness."
Miles Seward, Osayande Omoregie, and Quinton Gray have lead the way for Athlete Institute, while young Scott Hitchon (2017) has also been productive.
It will be interesting to watch this group grow as they have a good amount of talent for different guys to step up on any given night,
Anthony McNish in New Environment
Lee Academy made the trip to Thetford Mines, which means we got our first look at Anthony McNish. After he contributed in a major way to Henry Carr's OFSAA Silver medal, the 6'2 guard now finds a new challenge, transitioning into a new city, team and coaching staff.
Lee Academy Head Coach Igor Vrzina spoke very highly of his new addition in terms of his physical gifts and potential. McNish put up 12 points in his first game, attacking the rim, and being physical on penetration.
Championship Day
Thetford Prep VS Champlain Lenoxville (Semi-finals)
Thetford HS VS Filons Collegial (Sem-finals)
Athlete Institute VS Drummondville (Consolation)
Ahuntsic Vs Garneau (Consolation)