R.I.P Shawn "Biggz" Green…Passes Away Playing the Game he Loves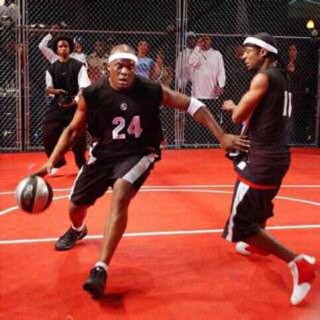 The Toronto basketball community lost a well-known figure yesterday, as Shawn Green, also known as "Biggz" passed away playing the game he loves, died at the age of 41.
It was a typical Saturday basketball run, that Green has been participating in for years, where he collapsed and was rushed to the hospital.
In the early 90's, Green starred at Mother Teresa and Bathurst Heights, but has never dropped the basketball since.
Gary Durrant, who has been playing with Biggz since they were teenagers for a team called "Top Gun For Life", spoke on Green's passion for the game.
"Basketball is obviously a big part of his life…most people that know Biggz know him through basketball."
"If I had to find where the good run is, Biggz would know. If I had to find Biggz, he'd be at the run," continued Durant.
Green was described as a tough guy–a fearless and intense competitor on the court, but a down to earth individual off the floor.
Wilton Hall, a long-time friend and TG4Life teammate of Green, has been playing ball with him since the age of seven.
"When it comes to basketball, he just hated losing," explained Hall.
"Off the court, he was a gentle giant…he was one of my best friends," he continued.
Wilton Hall, also an event convenor for The Annual Top Gun For Life Tournament in early July, said that this year the name will change.
In memory of Biggz, on the 15th anniversary of the tournament, it will be changed to the TG4Life Shawn Green Memorial.
Green's son Tyrell, is an up and coming Canadian prospect, who we at North Pole Hoops have been tracking for years. He played at Oakwood and graduated from St Benedict's in New Jersey. Tyrell currently plays at Hill College in Texas.
Our thoughts and prayers are with the Green family through this difficult time.
R.I.P Shawn "Biggz" Green.