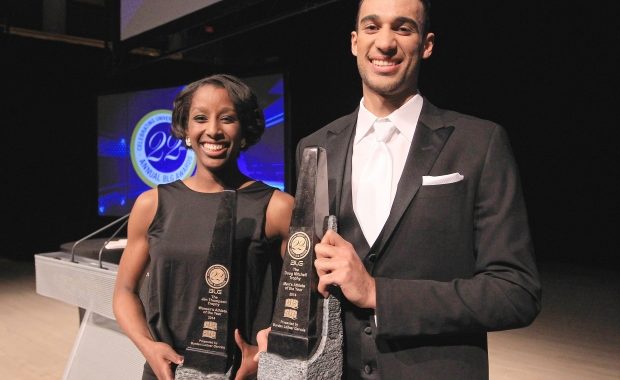 Phil Srubb, Justine Colley Named CIS Athletes of the Year
Basketball players swept the BLG Awards for Athlete of the year — only the second time in event history, which dates back to 1992.
Phil Scrubb (Carleton) and Justine Colley (SMU) have been named 2013-2014 CIS athletes of the year.
Both players are remarkably decorated in achievements, and are coming off of stellar seasons.
Scrubb (Richmond, British Columbia) is fresh off leading Carleton to a fourth straight national title, while averaging 18.6 PPG (49% FG, 47% 3P, 87% FT) coupled with 3.3 RPG, 4.9 APG.
Previous Ravens selected for this distinction are Tyson Hinz (2011) and Osvaldo Geanty (2006).
Justin Colley (East Preston, NS) has become the ALL-TIME leading scorer in CIS women's basketball history, on the way to her fourth straight AUS scoring title, averaging 20.8 PPG, leading the country in assists (5.7 APG) and steals (3.8 SPG).
Colley lead SMU to a 20-0 regular season record, eventually capturing CIS Silver at nationals.
Both Scrubb and Colley both have enjoyed time with the national program.
Scrubb was selected to the senior team camp last summer, and played for the student national team, while Colley did the same, and also played for Canadian Senior team, that qualified for the 2014 FIBA World championships.
Both BLG award recipients received commemorative gold rings and watches, and were presented with a trophy and a $10,000 scholarship to attend a Canadian university graduate school.