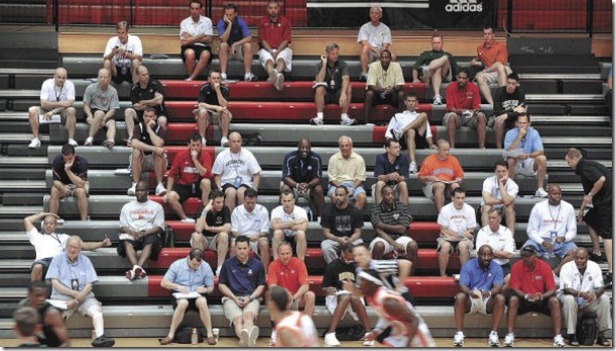 What do NCAA Coaches Look for in a prospect?
North Pole Hoops will be tracking Canadian teams in Akron, Ohio and Pittsburgh, PA for the NCAA spring LIVE evaluation period.
As we prepare to hit the road, I thought it would be beneficial to share some information with you.
Last spring when I was in the U.S, it was difficult to get through some games due to watching selfish basketball, a lack of ball movement and little desire to consistently compete.
Some of the teams I watched progressed throughout the summer, so a part of it was simply lack of chemistry.
Regardless, college coaches have limited time to evaluate prospects on the AAU circuit, therefore it is important to make your mark early.
But what does that mean?
I picked the brains of some NCAA coaches (from low to high major levels) on what they look for when they are on the circuit.
The following are their responses.
Use this information to your advantage this spring and summer.
What do NCAA Coaches Look For?
Make winning plays which means their motor runs high consistently
Find ways to help the team win that don't have to do with scoring — defensively, rebounding, intangibles.
From a coaching perspective, I look for teammates that you can tell interact with each other in order to help each other – talking on defense.
A guy that's not about himself. Talking on both ends of the floor. Kids that are able to communicate is a big deal…and I don't mean getting on guys.
Number one is body language, I dont expect him to knock it out of the park every time and have a big game, but is his body language condusive to team enivornment?
I put a lot of weight into winning, some people don't but I think it's important. How does he help his team win without the basketball, what is he doing when the basketball is not in his hands?
I look for guys that are efficient, and what I mean by that is good shot selection, no over dribbling, giving it up when they see the open man.
Physicality — are they taking it to the other team? Boxing out, battling for rebounds.
Great basketball is played violently, I look for players that enforce and impose thier will — initiate body-to-body action.

We make sure our staff is on the same page in terms of what we are looking for in terms of position and intangibles.

Skill set: How much a player can show a variety of his skill set.  What skills will translate well to the next level, and what might have a tough time transitioning with different speed, size, and strength levels.

Feel for the game and IQ: How do you let the game come to you?  What is your decision making abilities in certain time & score situations. These may seem like simple things, but are important to an overall impact at the next level.

Toughness ( mental & physical): How a player deals with adversity in terms of physical play, and mentally in terms of non-playing scenarios (bad call, etc…)

Being able to play with high energy CONSISTENTLY at both ends of the floor.  No missed possessions and no plays off.

As you can tell from this compilation of responses, there are reoccurring elements that we have previously discussed here at North Pole Hoops.
Every time you hit the floor this spring and summer, understand that the above is what college coaches are looking for. Take it in, and utilize it to achieve both team and individual goals.
You have the blueprint to succeed, make a strong impression and get one step closer to your dream.
In closing, I will leave you with this response that I received from one of the coaches, which really stood out to me.
"The beauty of the game of basketball is that it's so revealing, there's nowhere to hide…everything is out in the open."
See you on the circuit!