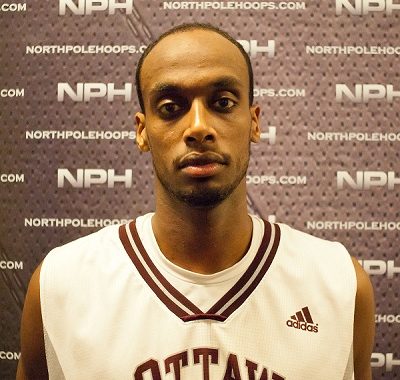 Johnny Berhane Breaks Ottawa Program Three-Point Record in Victory Over Windsor
OTTAWA, ON – The University of Ottawa came to play on the opening weekend of the 2013-14 OUA Basketball season. The Gee-Gees had a decisive win over the Western Mustangs on Friday night (106-76) and fought hard for the victory against the Windsor Lancers on Saturday, 96-85.
In the win, Berhane hit five three-pointers to break Ottawa's regular season program three-point record (previous record – 199, Berhanemeskel as of November 2, 2013 – 200).
The Lancers struggled again after the tipoff, missing several midrange shots to go down early to the Gee-Gees. Ottawa continued to distribute their scoring, as they did last night in their win over the Western Mustangs (four Gee-Gees scored in double-digits). Midway through the quarter, Windsor came back with Enrico Diloreto building upon his second-half play last night, leading a 12-point run for the Lancers.
Ottawa sophomore guard, Caleb Agada added two monster slams for the Gee-Gees' to spark a 15-point scoring streak, finishing the first quarter with a 26-18 lead.
The Gee-Gees continued to control the game in the second frame with strong offensive rebounding (six) and capitalizing on second chance buckets. Luckily for the Lancers, Diloreto single-handedly kept them in the game with 17 first half points. Ottawa was up 47-40 at the half.
Lancers big men, Lienn Phillip and Evan Matthews controlled the paint in the third frame after going nearly silent in the first half. The Gee-Gees' defense looked stagnant allowing Windsor to gain a one-point lead through confident shooting from senior guard, Josh Collins.
Ottawa and Windsor continued to battle in the fourth quarter, exchanging multiple three-pointers. A late mid-range jumper from Khalid Abdel-Gabar brought the Lancers close within the last minute but their defense could not stop the scorching hot play of Gee-Gees' guard, Johnny Berhanemeskel.
Windsor, now 0-2 on the season, will need to control their fouls (22 tonight), improve their free-throw shooting (62%), and convert points off of turnovers (15) going into next weekend.
The Windsor Lancers tip off in front of a home crowd next weekend against the York Lions on Friday and Queen's Golden Gaels on Saturday at the St. Denis Centre.
Ottawa will hit the road next week to take on Guelph and Lakehead.
NPH Top Performers
Ottawa
Johnny Berhanemeskel – 34 points (5-10 three-point shooting), 6 rebounds
Caleb Agada – 27 points, 6 rebounds, 4 steals
Windsor
Enrico Diloreto – 29 points, 5 rebounds, 2 assists
Josh Collins – 20 points (4-9 three-point shooting), 7 rebounds, 3 assists
Follow Dillon Richardson on Twitter @hi_dillon & NPH @Northpolehoops