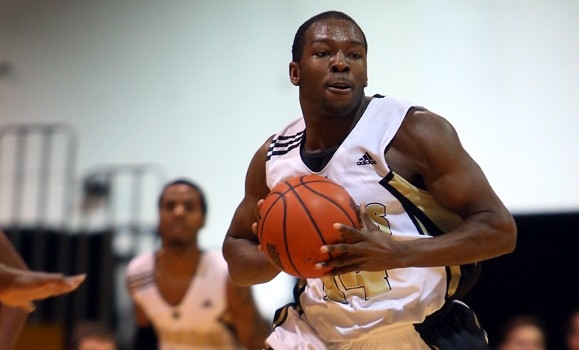 Kashrell Lawrence, Dalhousie Stun McMaster in a Tight One
QUEBEC CITY, QC – One day after the McMaster Marauders and Taylor Black offered a big performance in the tournament opener, the Dalhousie Tigers made sure the scenario wouldn't repeat.
Lead by Kashrell Lawrence (23 points, 6 rebounds, 3 assists) and a mixture of defensive schemes, Dalhousie came out with an 85-79 victory in their first game of the Laval tournament.
The Dalhousie defense put some pressure on Taylor Black early on, getting him to miss two shots and commit one turnover on McMaster's first three possessions of the game.
On the other end, the Marauders forced their opponents into some very long offensive possessions, often winding down to the last seconds of the shot clock, but the Tigers got bailed out by converting difficult shots on some occasions, and drawing fouls from McMaster's aggressive defense. Taylor Black was benched with two fouls midway through the first quarter.
Aaron Redpath orchestrated a 7-0 run with a couple of shots and an assist for his Marauders, but that wasn't enough to keep Dalhousie from imposing their style of play. The Rick Plato-led team got practically all of their baskets from inside the paint, not attempting a single three-pointer in the first half. They held a 21-15 lead after one.
The Tigers kept their edge in the second quarter by adopting different defensive schemes: man-to-man, a lot of zone defense, and even bringing out a half-court press on one occasion. They also benefitted from Taylor Black's absence, the big man picking up his third foul early in the quarter. Rookie James Miles was asked to fill in but couldn't handle the likes of Devon Stedman and Simon Marr, both taking advantage in the low post.
This was a situation where Nathan McCarthy would have been useful for McMaster, him being out due to a concussion. Rohan Boney was also out again.
Leading 37-32 at halftime, the Tigers then adopted a 2-3 zone defense (or "something that was designed to look like it", said coach Plato) the rest of the way. The Marauders seemed to get back in the game in the third quarter. They got good looks from deep, Redpath and Presutti converting on one each, even grabbing a 42-40 lead.
But Dalhousie got back to forcing turnovers and getting easy transition baskets. They also got McMaster players to commit fouls on their full-court pressure defense. Head coach Amos Connolly wasn't too pleased about it and let the referees know, as he picked up a technical with 2:44 to go in the quarter. Dalhousie eventually closed the third on a 58-54 lead.
The battle came down to the last minutes of the fourth quarter. Joe Rocca hit a three-pointer off a Presutti pass as he was fouled and converted the four-point play, cutting the Dalhousie lead to two with 1:31 left.
However, Kashrell Lawrence answered from deep on the very next possession for Dalhousie, a shot that hurt McMaster's momentum.
Both teams exchanged foul shots after that, Ritchie Kanza Mata making two big ones to seal the deal.
"Kashrell [Lawrence] and Ritchie [Kanza Mata] made key plays for us down the stretch, got key buckets, and it's a good win for us", said first-year Dalhousie coach Rick Plato.
"Two weeks ago, after we got blown out by Carleton, we had a little talk, and each day we're getting better. We have a very young group and I see signs of us improving everyday."
NPH TOP PERFORMERS
Dalhousie
Kashrell Lawrence: 23 points, 6 rebounds, 3 assists.
Jarred Reid: 14 points, 6 assists, 4 rebounds.
McMaster
Aaron Redpath: 17 points, 3 assits, 3 steals.
Taylor Black: 15 points, 4 rebounds, 1 assist