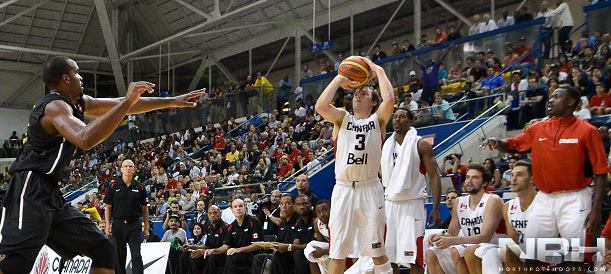 Canada VS Jamaica: Sight & Sounds – Brady Heslip Heats UP…Vets Levon Kendall, Jevohn Shepherd Step Up
Canada defeated Jamaica in game one of the Jack Donahue Classic Thursday August 8 at Mattamy Athletic Centre in Toronto, by the score of 81-72.
It was a scrappy game that displayed resistance from the young crop of Canadians such as Andrew Nicholson and Tristan Thompson, that they were not backing down from anyone.
While most expected the NBA contingent to step up for Canada and lead the way, it was quite the opposite. National team veterans Levon Kendall and Jevohn Shepherd steered the ship early offensively and chipped in with 16 and 12 respectively.
However, it was the sharpshooter from Burlington, Ontario that caught fire as most expect him to do; game MVP Brady Heslip registered a game-high 18 points on seven of ten from the field, including four long bombs.
Junior Cadougan put up a game-high five assists, while Thompson cleaned the glass for a game-high eight rebounds.
For Jamaica, Canadian PG Dylan Ennis (Brampton, ON) had a solid game registering nine points including multiple early threes.
Here is what you missed:
[youtube]HteLTb54k5I[/youtube]