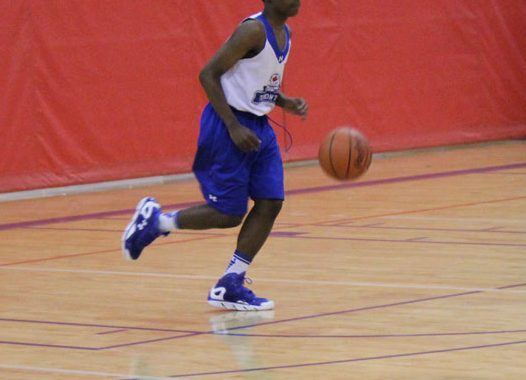 Canadians in Orlando: Jordan Henry on NPH National Radar, YAAACE Thinking Gold
Jordan Henry, Young and Talented PG
ORLANDO, FL—Lets start with Jordan Henry; a new name we became familiar with in the morning of day one to tip off the AAU Super Showcase in Orlando.
Henry is a 2017 point guard and the engine for Triple Balance Toronto, who has already drawn comparisons to Chris Paul & Kyrie Irving at first glance by two high-major programs.
Of course, this is not to be taken literally, but Henry does have some special abilities that are rare to find in prospects, especially at that young of an age.
It was our first look at Henry and it certainly won't be the last as he is now officially on the NPH National Radar.
YAAACE: Talent Galore
The highly touted 2016 group is warming up with a 4-0 record to kick off the AAU Super Showcase on a high note. YAAACE has not yet been tested, defeating teams by an average of 30+, while also resting up Justin Jackson who is playing with a bruised knee. They are now in the elite eight of the gold bracket.
This team features some of the Canada's brightest prospects in the age group headlined by Justin Jackson, Nolan Narain & Marcus Ottey.
The only objective for Orlando is coming back to Canada with a gold medal, but as they move forward in the tournament, you can expect the level of competition to increase, and this is what we are waiting for.
Justin Jackson has taken his game to another level with confidence at an all time high, quicker first step and displaying the full package. Special.
CIA Bounce – Back to basics
We had an opportunity to catch the CIA Bounce 16s in Pittsburgh, where the team came out flat and maybe a little over-confident. However, this promising group has turned it around, as they are coming out with intensity on the floor that we are accustomed to seeing from the Bounce program.
Currently holding a 3-1 record, and featuring young Canadian stars in Koby McEwan (NPH #6-Ranked), Eddie Ekiyor, and Malik Turenne. The team is without major pieces in Jacques Lukusa, and of course Jamal Murray (currently participating in the Nike Global Challenge).
With the one loss, CIA Bounce is now in the silver bracket, but could win their division.
Team Ontario U14 – BIG
 At one point, the team had a line up of five players of 6'5+ on the same line up. Just a brief illustration of how big this team is. There is a lot of potential on this squad, however still extremely raw.
Marcus Anderson, Brampton Warriors Scrappy
Lead by Marcus Anderson & Romar Subban, the Brampton Warriors held their own against a strong CP3 All-Stars. CP3 jumped on the Brampton squad early, but they hung around the entire game within striking distance (10 point lead throughout).
In the last two minutes, Brampton put together a run, which cut the lead to three, however didn't have enough to pull it out.
As Coach Avery Brown stated, "our guards can hang with anyone in the country," and they did.
Marcus Anderson drew comparisons to Russell Westrbook with his strong frame,  length and athleticism.