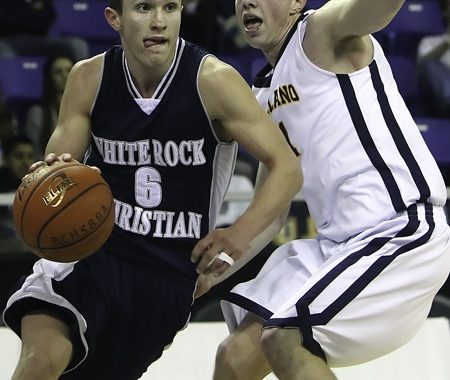 Years in the Making: Tyus Allen Hits Game-Winner to Earn WRCA BC Title Berth
LANGLEY,BC–Preparation, hard work and dedication were common themes that came up after White Rock Christian's 74-72 victory over Kitsilano Friday night.
The core group for White Rock—who have been playing together since the sixth grade—used a play they first ran in the eighth grade to score the go ahead basket and set up a rematch of the Fraser Valley finals with Walnut Grove.
"This is all we've been training for, all we've been looking forward to is our grade 12 year and playing in the finals." White Rock guard Tyus Allen told NPH after the game. "We've worked too hard to come this far and lose."
WRCA coach Scott Allen echoed his son's sentiments: "They've always been an extremely hard working group of kids, and they just keep finding ways to win." Allen said "They've earned this."
Forward Vartan Tanielian lead the Warriors with 29 points and 9 rebounds, and battled with Kits big man Luka Zaharijevic for the entire game. Allen added 17 points and 5 assists, including the game deciding basket.
Forward Sam Ykema continued his stellar play, finishing with 14 points, 8 rebounds and three assists. The 6'4" Ykema routinely guards the opponents best perimeter player and did a solid job hounding Kits point guard Justin Sze. Ykema will likely match up with Walnut Grove's Jadon Cohee in tonight's final, and if the Warriors are to win, his defense will be key.
For Kits, big man Luka Zaharjevic had an outstanding night finishing with 24 points on 9/18 shooting and 15 rebounds (11 offensive). PG Justin Sze added 18, but failed to hit a three (0/5) and was just 6/15 from the free throw line. Tom Campbell added 14 points and 7 rebounds in the losing effort.
Kits will take on St. Georges in today's third place game (6pm tip), while the final between White Rock Christian and Walnut Grove tips off at 8pm.
[youtube xGO6C2kesDc]