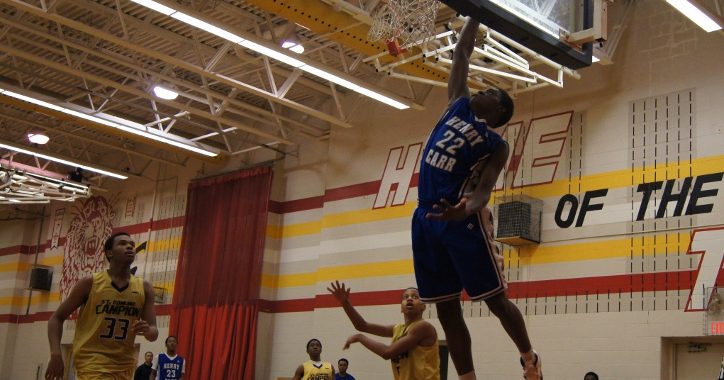 Semi's All Set At Junior Rim Rocker, Bishop Reding vs Monsignor Johnson, FHC vs Pope John Paul II
MISSISSAUGA, ON–St. Edmund Campion wasn't deep enough to stick with Father Henry Carr, D'Youville got off to a slow start, Bishop Reding snuck by Vanier and Pope John Paul II took over in the fourth over Brebeuf. That's the gist of what happened in quarter final action at the junior Rim Rocker yesterday.
The only thing that came as a surprise was the defeat of D'Youville, who took the second half against Monsignor Johnson but had struggled in the first half to get things going. Moreover, there was no answer for the size and strength of 6'6 Derek Ogbiede who was all over the glass, cleaning up everything that came off of the rim. This was a breakout game for both Ogbiede and the team as a whole, since they have been barely getting by all tournament. Needless to say, that they will have to play a similar high tempo game tomorrow as they face a speedy Bishop Reding squad.
D'Youville's Keshon Montague and Christien Gould were lights out from beyond the arc combining for 45 of the team's 52 points. From a rebounding standpoint there were many lapses as a unit in establishing position, which allowed for many second chances for Monsignor.
Yesterday's game against Campion was Father Henry Carr's biggest challenge thus far in the tournament, and that isn't saying much since they ended up taking that quarter final 79-61. Based off what has been seen until now it should shape up to be a Bishop Reding and FHC finals. Considering this does happen, the match ups in size and skill level shape up to give the expected big crowd and exciting finals.
Both teams will be looking to gun it in transition and not allow for the defense to set up, as well as setting up full court presses. FHC is a team that can handle this kind of pressure. In fact, it seems as if they wish teams WOULD press them, be cause they have devoured the competition when this has been done.
Being successful against presses, especially at the Junior level, comes down to having patience and showing no fear. As soon as the defense senses a weak dribbler they will pounce and cause endless turn overs.
Last night also solidified Kris Rotterman as the most complete package as a junior while he displayed; top notch ball handling and break down moves, a knack for getting to the basket and absorbing contact, clever play making and an adequate shooting ability. His team has been knocked out but we will surely be tracking this 2016 prospect as the season continues.
Today's semi-final schedule is as follows:
Games @ Xavier
9:00 SF 1: Bishop Reding v Monsignor Johnson
10:20 SF 2: Henry Carr v Pope John Paul II