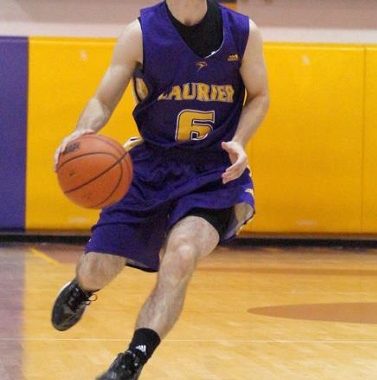 NPH CIS Preview: Laurier Golden Hawks
Last Season:
| | | | | | | | |
| --- | --- | --- | --- | --- | --- | --- | --- |
| Overall | Pct. | Conf. | Pct. | Streak | Home | Away | |
| 16-6 | .727 | 16-6 | .727 | L 3 | 9-3 | 7-3 | |
Head Coach: Peter Campbell
Assistant Coaches: Scott James, Eddie Lopez, Borko Popic, Jamie Campbell
Key Players: Maxwell Allin, Will Coulthard, Pat Donnelly, Kyle Enright, Jemar Smith (transfer from Sheridan)
Incoming Recruits: 
Matthew Chesson, 6-7 centre  (Whitby, ON)
Garrison Thomas, 6-3 forward  (Burlington, ON)
Amen Obano, 6-4 forward  (Brampton, ON)
Michael Grantis, 6-2 guard  (St. Catharines, ON)
Filip Cvrkalj, 6-4 guard  (Kitchener, ON)
Blake Hayley, 6-6 centre  (Penetanguishene, ON)
Nicolaas Lau, 6-7 forward  (Owen Sound, ON)
Connor Shkimba, 5-10 guard  (Kingston, ON)
Departures: Kale Harrison, Matt Buckley, Conor Meschino, Matt Donnelly
The Laurier men's basketball team is in for a bit of a rebuild following the graduation of five players including the Golden Hawks all-time leading scorer and OUA West first team all-star Kale Harrison and leading rebounder Matt Buckley.
Harrison averaged 18.2 points per game last year, while Buckley averaged 8.5 rebounds, and added 10.8 points leading the veteran team to a 16-6 record and the OUA playoffs where they fell to Guelph 61-58.
Now, the team will work to integrate nine new players into the roster, something head coach Peter Campbell says won't be easy.
"It'll take us a while to be an effective team," Campbell told NPH. "It'll be hard for the young guys to get up to speed on the CIS game. It's a lot quicker and a lot more physical than they're used to no matter where you played."
The new recruits include; Matthew Chesson, a 6-7 centre from Whitby who Campbell says has really been effective in the post, and has worked with the team since the spring, Garrison Thomas, a 6-3 guard from Burlington who has played well despite a few minor injuries, and Amen Obano, a 6-4 forward from Brampton who has made an immediate impact.
Rounding out the recruits are Michael Grantis, a 6-2 guard from St. Catharines, Filip Cvrkalj, a 6-4 guard from Kitchener, Blake Hayley, a 6-6 centre from Penetanguishene, Nicolaas Lau, a 6-7 forward from Owen Sound who only started playing basketball in grade 10, and Connor Shkimba, a 5-10 guard from Kingston.
Laurier also adds former Sheridan guard Jemar Smith, a 5-10 Brampton native, who will add depth and experience in the backcourt and provide options in the lineup.
"We've tried a couple things where we've played Will Coulthard at the point or not at the point, and had Jamar play the point and use Will on the wing," said Campbell. "I think Will's played well enough that he should be our point guard and he's shown a lot of development since last year."
Coulthard, a 6-2 guard from Oakville (7.1 PPG, 2.2 RPG, 3.0 APG last season) was named to the OUA West all-rookie team a year ago.
He'll be helped by fellow Oakville natives Pat Donnelly, a 6-6 centre (10.3 PPG and 7.8 RPG), and Kyle Enright, a 6-4 forward (10.2 PPG).
With Coulthard, Donnelly and Enright, plus 2011-12 OUA West second-team all-star Maxwell Allin, a 6-4 guard from Chatham, (15.1 PPG, 6.1 RPG, 5.4 APG), the Golden Hawks should be able to bridge the gap between youth and experience.
Campbell says the team will play an uptempo style with lots of ball movement to open space for their shooters.
"I think we'll be in the mix," said Campbell. "There's a couple of veteran teams in the division, certainly Lakehead and Windsor and Mac who are ahead of us right now, and it's a matter of if we can catch up and close the gap with their veterans. The goal is to make the playoffs and once they come around see if we can do some damage."
Laurier will open the 2012-13 campaign at Queen's University on Nov. 9.