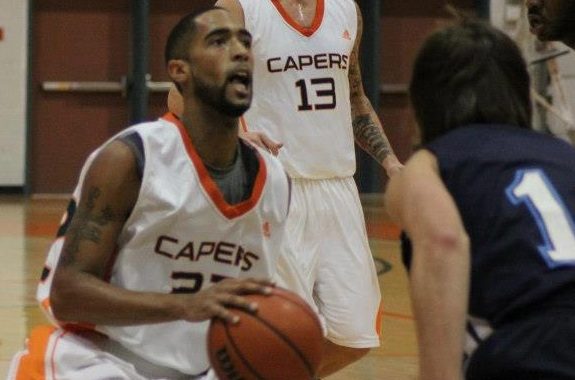 Jimmy Dorsey Grabs MVP, Cape Breton Takes X-Men Invitational
NPH Top Performers
Cape Breton

Jimmy Dorsey – 17 points, 11 rebounds, 7 assists
Shaquille Keith – 29 Points, 6 assists
Brennen Fule – 15 Points, 2 assists, 3 rebounds
Lee Macquarrie – 14 Points, 7 rebounds, 1 assist
Meshack Lufile- 7 points, 11 rebounds, 6 blocks
St. Francis Xavier
 Will Donkoh – 23 Points, 6 rebounds
Jeremy Dunn – 11 Points, 10 rebounds
ANTIGONISH, NS–Cape Breton took on St. Francis Xavier in the final game of the X-Men Invitational, with the young Capers running away with it 93-55 and in the process winning the tournament championship.
The Capers had multiple contributors, but once again were lead by their big time perimeter duo of Jimmy Dorsey and Shaq Keith. Dorsey earned MVP honours and nearly notched a triple double, registering 17 points, 11 rebounds and seven assists. Freshman Keith added a game-high 29 points to go along with six assists.
Brennan Fule and Lee Macquarrie added 15 and 14 points respectively.
The game opened with an X-Men 8-0 run, as the Capers' over-aggressive rebounding got them in early foul trouble. It wasn't until around the sixth minute that CBU found their rhythm.
Jimmy Dorsey took the inbound pass and dished it to Keith who hit what seemed like an effortless three point shot. Dorsey then steals the inbound and lays it up. After a miss at the X-men end, Arild Geugjes finds Keith in transition, who in stride quickly jukes his man and knocks down yet another three, tying it up at 8.
From there, it was all Capers.
Sean Mccormick, AJ Geugjes, Lee Macquarrie and Meshack Lufile dominated the paint and made it their own. Lufile posted  seven points, 11 rebounds and six blocks going to work on the interior.
Macquarrie finished the night with an impressive 63% percent shooting average from the floor. He was a presence the entire game and sliced through the paint with ease.
Jeremy Dunn on the X-Men was a huge physical threat throughout the tournament and he didn't hold anything back against the Capers. Dunn was able to register a double-double in the loss. Will Donkoh finished the night with a team-high 23 points for the X-Men. They were the mere bright spots in the X-Men offense this evening as the X squad was not ready for the highlight reel that is the duo of Dorsey-Keith.
Dorsey taking the ball up court, seemed unguardable. His ocbination of ball handling and footwork left every defender on their toes and one step behind. This made it seem effortless when he shot his passes to anyone on the perimeter or in the paint. It was a privilege to watch the returning AUS MVP dissect the X-Men defense.
The X-Men team showed great speed and athleticism from the get go but as the game wore on, you could sense that they grew tired. This is what led to the Capers' bench to reign superior as they came on fresh and rested.
In this game, it was the Capers who were clearly the better team; and it showed with their 38 point victory over the hometown St. Francis Xavier squad.
MVP & All-Stars
Jimmy Dorsey (MVP/ Cape Breton)
Jeremy Dunn (St FX)
Will Donkoh (St FX)
Shaq Keith (Cape Breton)
Daniel Quirion (UNB)
Geoff Doane (UPEI)