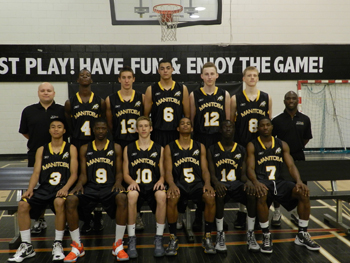 Manitoba Makes History Reaching Championship for First Time Ever…Take on Defending Champion Ontario!
NPH TOP PERFORMERS
Alex Hart- 26 pts, 15 rbs, 4 blk- British Columbia
Malcolm Duvivier– 22 pts, 4 rbs, 2 ast- Ontario
Junior Sesay– 21 pts, 5 rbs- Manitoba
Sampson Kinsley- 20 pts, 11 rbs, 3 ast- Manitoba
Ben Miller- 17 pts, 2 rbs, 3 ast, 6 stl- Manitoba
Abdul Atta– 10 pts, 9 rbs- Quebec
Laurent Isaiah- 26 pts, 15 rbs- Northwest Territories
Travis Adams– 23 pts, 3 rbs, 2 ast, 3 stl- Nova Scotia
Ryan Delwo- 25 pts, 7 rbs- Saskatchewan
Wil Konyabi- 23 pts, 6 rbs, 8 stl- Alberta
Adonis Montfort-Palomino– 16 pts, 8 ast- Alberta
Erik Nissen– 24 pts, 9 rbs, 4 stl, 3 blk- New Brunswick
SHERBROOKE,QC–In what we thought would be the game of the tournament, turned into another Ontario victim as Quebec fell 95-46. Ontario's depth was evident, and their hunger even more so.
Malcolm Duvivier could not be kept out of the lane, and to make things worse for Quebec, he was knocking down his jumper at a high rate. Duvivier lead with a team-high 22 points, while Marcus Lewis added 13 and eight boards.
QC's biggest producer and player, 6'8 Noah Daoust needed to play a major role if his team was to have a chance. However, Daoust was unable to stay in the game due to foul trouble, playing a total of only 12 minutes.
Quebec will play their final game against British Columbia for the bronze medal, while Ontario moves to the championship to take on Manitoba who advance to the championship game for the first time ever!
Manitoba used a team effort to defeat British Columbia 88-76, who most had as the favourite coming in. Once again showing their discipline on offense and maximizing their possessions, they prevailed lead by Junior Sesay, Sampson Kinsley and Ben Miller who poured in 21, 20 and 17 respectively.
Manitoba remains undefeated (5-0) much like Ontario, however this will be the biggest test that will give a good indication of what level they are at.
Not only would this be the biggest game of the tournament for Manitoba, but also the biggest game in the province's history!