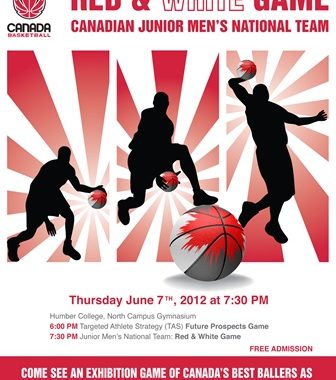 Junior Team Canada
Team Canada
Canadian Junior National Team Training Camp Roster Released! Wiggins, Lyles, Ennis + more!
TORONTO,ON–Canada Basketball announced the 17 athletes who have been invited to the junior men's national team training camp. From this camp, the final team of 12 athletes will be selected to represent Canada in the 2012 FIBA Americas U18 Championship for Men, in Brazil from June 16th – 20th. The training camp will take place at Humber College, North Campus starting June 2nd – 10th.
Canada Basketball also announced it will hold a Red and White intersquad game on June 7th at Humber College, North Campus, with tip-off at 7:30pm.
The event will have free admission for the public. To watch the promotional video for the Red and White Game, click here.
"We have a very strong and committed group of athletes coming to camp and expect to have a productive and rewarding experience," said head coach, Roy Rana. "Judging by the quality of our tryout phase, this will be one of the more competitive training camps I've been part of in by career at the national team level."
The Red and White game will feature the junior men's national team athletes, split up into two teams, where they will compete head-to-head against each other.
The game will be used to showcase the young and upcoming basketball talent coming through Canada. The event will also feature a Targeted Athlete Strategy (TAS) Future Prospects Game taking place at 6:00pm.
"The Red and White Game as well as the Future Prospects Game represent Canada Basketball's desire to continually cultivate Canada's elite youth players and provide opportunities for them to develop, as well as be embraced by their communities," said Assistant General Manager/Executive Vice-President of the senior men's program, Rowan Barrett.
 2012 JUNIOR MEN'S NATIONAL TEAM – TRAINING CAMP ROSTER
| | | | | |
| --- | --- | --- | --- | --- |
| Name | Position | Height | Hometown | School (2011-12) |
| Matthew Atewe | Centre | 6-9 | Brampton, ON | La Jolla Prep (HS) |
| Braxston Bunce | Centre | 6-10 | Kelowna, BC | Kelowna S.S. (HS) |
| Joseph Chartouny | Guard | 6-3 | Saint Hubert, QC | Jean de Brébeuf (HS) |
| Joey DeCiman | Guard | 6-5 | Regina, SK | Dr. Martin LeBoldus (HS) |
| Tyler Ennis | Guard | 6-2 | Brampton, ON | St. Benedict's Prep (HS) |
| Kaza Keane | Guard | 6-1 | Ajax, ON | Christian Faith Center Academy (HS) |
| Trey Lyles | Forward | 6-9 | Saskatoon, SK | Arsenal Technical (HS) |
| MiKyle McIntosh | Forward | 6-6 | Pickering, ON | Christian Faith Center Academy (HS) |
| Conor Morgan | Forward | 6-8 | Victoria, BC | Mount Douglas (HS) |
| Duane Notice | Guard | 6-2 | Woodbridge, ON | St. Michael's (HS) |
| Agunwa Okolie | Forward | 6-8 | Ajax, ON | Denis O'Connor (HS) |
| Marko Pirovic | Forward | 6-7 | Bolton, ON | Robert F. Hall (HS) |
| Xavier Rathan-Mayes | Guard | 6-4 | Scarborough, ON | Huntington Prep (HS) |
| Jamal Reynolds | Guard | 6-4 | Pickering, ON | Pineridge S.S. (HS) |
| Denzell Taylor | Forward | 6-7 | Toronto, ON | St. Benedict's Prep (HS) |
| Isaiah Watkins | Forward | 6-8 | Toronto, ON | St. Benedict's Prep (HS) |
| Andrew Wiggins | Forward | 6-7 | Concord, ON | Huntington Prep (HS) |