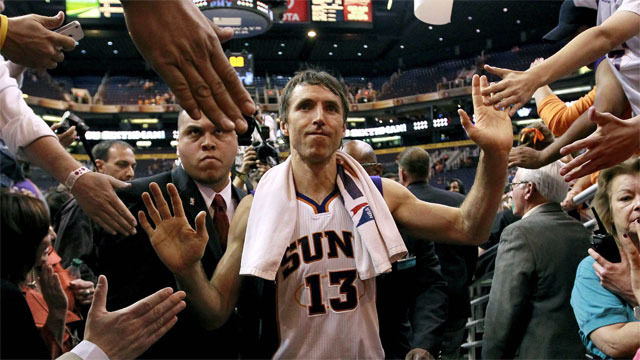 Historical Year For Canadians in the NBA…A Start To Something New
TORONTO, ON–Prior to the first game of the NBA season, history was already made when Canadians Tristan Thompson (Brampton, ON)  & Cory Joseph (Pickering, ON) were both selected in the first round of the draft.
Thompson was a lottery pick to the Cleveland Cavaliers at #4, while Joseph was also drafted in the first round (#29), heading to the San Antonio Spurs, arguably the best team in the NBA.
As the NBA playoffs begin, we take a look back at some key story lines that the 2011-2012 regular season had to offer for Canadians in the league. A special a year indeed, and the start of a trend that will see a considerable Canadian content increase within the NBA.
Steve Nash– 12.5 PPG, 10.7 APG, 3 RPG – Phoenix Suns
What Nash has been able to accomplish has been nothing short of remarkable. This season, the two-time MVP became the Phoenix Suns all-time franchise leader in assists surpassing Kevin Johnson, and currently ranks sixth in NBA history for most assists behind only John Stockton, Jason Kidd, Mark Jackson, Magic Johnson and Oscar Robertson. In Nash's 15th year, he ends the season averaging the second-most assists in the league behind Rajon Rondo.
Tristan Thompson– 8.2 PPG, 6.5 RPG – Cleveland Cavaliers
The #4 draft pick established himself as one of the top rookies in the NBA with his high motor, athleticism and strong will, as illustrated by nearly half his rebounds being on the offensive glass (3.1). With one season under his belt and increased confidence, look for Thompson to put in a productive off season in order to advance his skill set and help the Cavs get into playoff contention next season. Over all-star weekend, Thompson registered a team-high 20 points adding to his resume. Given the fact that he averaged only about 24 minutes per game, Thompson could develop into an instant double-double by next season.
Cory Joseph – 2 PPG, 1.2 APG – San Antonio Spurs / 14 PPG, 5 RPG, 5 APG
I've said it before, and I'll say it again…Cory Joseph couldn't have found a better fit at the NBA level. It may take some time, but we feel he will work his way into a permanent NBA roster spot. While the Spurs assigned Joseph to the D-League affiliate Austin Toros, he has proved his worth averaging 14, 5 & 5 in addition to recording the first ever D-league triple-double of 15 points, 17 rebounds and 12 assists. In today's first play off game for the Spurs, Joseph is inactive. If the Pickering, Ontario product doesn't play a single game in the post season, the experience and knowledge he will gain will certainly serve him in the future.
Joel Anthony – 3.4 PPG, 4 RPB, 1.3 BPG – Miami Heat
The Montreal, Quebec native has been in and out of the starting line up for the NBA championship contender, Miami Heat and is currently the only active Canadian in playoff action.
Other Canadians: Jamaal Magloire, Samuel Dalembert
Next Up – 2012 NBA Draft
Andrew Nicholson (Projected 1st round to Cleveland) – If projection holds true, Cleveland would be home to 2 Canadians!
Kris Joseph (Projected 2nd round to Sacramento)
Robert Sacre (Projected 2nd round to New Jersey)