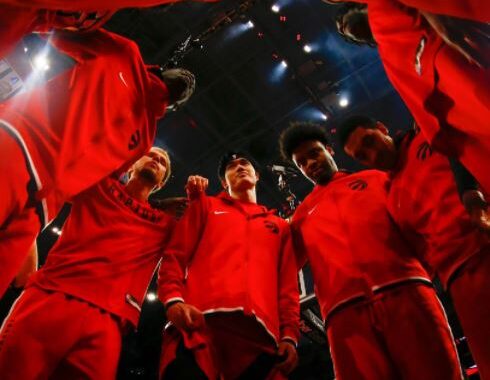 Coming Together – The Raptors blow out the Knicks to end a promising week
The High 5 – Week in Review – Week 11
The High 5 is where I review the last week of Toronto Raptors basketball including how the team did, who were the impact players as well as some news and notes from around the league.
The Thumb – How was the week?
The show must go on.
COVID has wreaked havoc throughout the league, ripping through rosters and coaching staffs. It seems as if every team has been hit at this point, including the heroes of the 6. As a result, the Raptors essentially got a week off (which is why there was no Week 10 review). Though it was due to unwanted reasons, the break at least gave the players time to rest their knees, ankles, and any other bumps or bruises.
Toronto ate an unfair loss against Cleveland last Sunday and they fought bravely against Philly before dropping that contest as well. They had a bounce back feel-good win against the Clippers, and they rode that momentum to dissect the Knicks in a comfortable win.
There is a sense that the Raptors could be better than good if they could stay healthy. Their main core has only played together for a fraction of time. However, considering that the teams ahead of them are floundering as well, maybe, just maybe, the Raptors with a bit of luck and health, can ascend up the rankings.
Or maybe I am just being a hometown optimist.
Either way, there is nothing wrong with a little optimism to start a new year.
Week Record (2 – 2) Season Record (16 – 17)
Toronto Raptors v Cleveland Cavaliers L 144 – 99
Toronto only had 4 regular bodies when they visited Cleveland on Boxing Day. This meant that there were a lot of opportunities and minutes to go around. Banton got his first career start joining Watanabe, Boucher, Mykhailiuk and newcomer DJ Wilson. The Raps showed a modest spark to start the game, but they were looking at a significant deficit by halftime. The Cavs kept pouring it on giving the Raptors flashbacks of LeBronto days. Not many positives to write about here. This game feels like it shouldn't count.
Philadelphia 76ers v Toronto Raptors L 114 – 109
With a few more bodies back in the mix, Toronto hosted Philadelphia on Tuesday. Without a real big man to challenge the colossus Embiid, the Raps were in for a world of hurt. Siakam was Toronto's everyman for most of the night. Boucher matched his effort with easily his best game of the season. In the 3rd, Philly started feeding their big man and Embiid was hungry. Credit to the Raptors for not backing down and mixing up their D. No one will fault Toronto's effort, they left it all on the floor in a fantastic game.
Los Angeles Clippers v Toronto Raptors W 116 – 108
The Raptors looked more like their old selves on New Year's Eve against Serge Ibaka and the Clippers. This was only the 4th time that Anunoby and Siakam suited up together and, along with VanVleet, they did some serious damage. The trio combined for 82 points and shined at moments throughout the night. With no fans, and perhaps no pressure, Toronto looked loose and comfortable. The game was tight until the 4th, where VanVleet teamed with Siakam for a large serving of pick and rolls. There were big moments down the stretch that would have sent fans into a frenzy.
Toronto Raptors v New York Knicks W 120 – 105
Coming into the game, the Knicks only sat percentage points ahead of Toronto at the bottom of the playoff picture. New York was without Julius Randle, making their front court vulnerable. The Raptors noticed this and attacked the rim early and often. The Knicks had a few good runs, but Toronto's defense forced turnovers and responded with a multi faceted assault. In the 3rd, VanVleet went crazy and scored 17 points including a handful of triples to put the game out of reach. They cruised the rest of the way.
The Index – The Leader – Player of the Week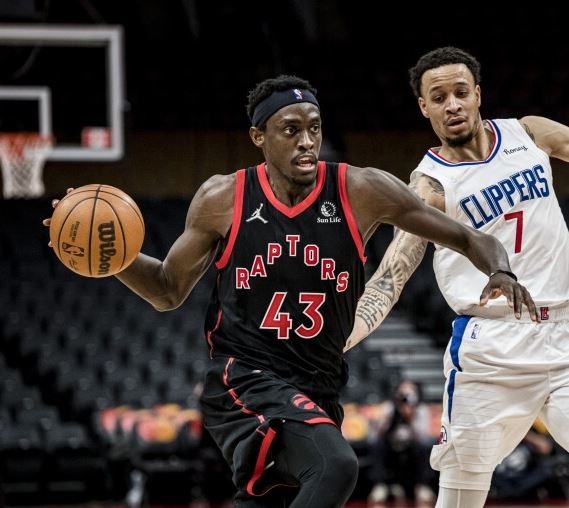 Pascal Siakam
Spicy P has turned the heat all the way up since his return and is suddenly playing some of his best basketball in recent memory. He missed one game but still did enough to earn Player of the Week. He teamed with Boucher to nearly topple the Sixers and he exploded against the Clippers for a career high in rebounds, while scoring 25 + in both games. Finally, against the Knicks he showed is all around development. Pascal has incredible offensive versatility inside the arc. He collected boards at a high clip and kept everyone involved with matured patience and vision. On defense, he was calling out coverages and rotating well. Pascal continues to silence his critics.
| | | | | | | | | |
| --- | --- | --- | --- | --- | --- | --- | --- | --- |
| | Points | Rebounds | Assists | Steals | Blocks | FG | 3PT | FT |
| v CLE | – | – | – | – | – | – | – | – |
| v PHI | 28 | 6 | 8 | 1 | 1 | 11/21 | 0/4 | 6/6 |
| v LAC | 25 | 19 | 7 | 2 | 2 | 10/20 | 1/2 | 4/9 |
| v NY | 20 | 14 | 7 | 2 | 0 | 7/15 | 0/1 | 6/9 |
| | | | | | | | | |
| Weekly Avg | 24.3 | 13 | 7.3 | 1.6 | 1 | 28/56 | 1/7 | 16/24 |
| 3 Games | | | | | | 50% | 14% | 66% |
| Season Avg | 19.9 | 8.1 | 4.1 | 0.7 | 0.9 | 48% | 29% | 73% |
| | | | | | | | | |
Honourable Mention: F. VanVleet
The Middle – The Enemy – Best Opposing Player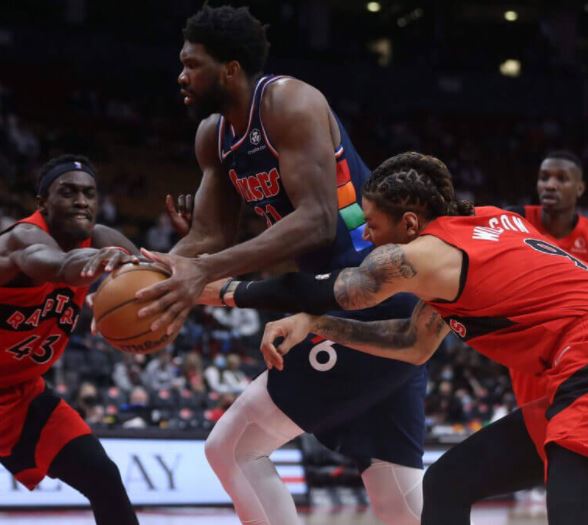 Joel Embiid – Philadelphia 76ers
Joel was literally salivating when he saw Boucher lined up opposite him. Granted, Chris still had a great night (more on that later) but even the best Boucher could do nothing against Embiid. Joel got a third of his points from the stripe and picked up an easy double double. He shot nearly 70% from the floor with a pair of triples for good measure. The gravity that he created was like that of a small planet, he would send defenders into orbit anytime they got physical. This was the Embiid that deserves to be in MVP consideration.
| | | | | | | | | |
| --- | --- | --- | --- | --- | --- | --- | --- | --- |
| | Points | Rebounds | Assists | Steals | Blocks | FG | 3PT | FT |
| v TOR | 36 | 11 | 4 | 1 | 1 | 11/16 | 2/3 | 12/14 |
Honourable Mention: K. Love (CLE), T. Harris (PHI), T. Mann (LAC)
The Ring – The X Factor – Standout Performance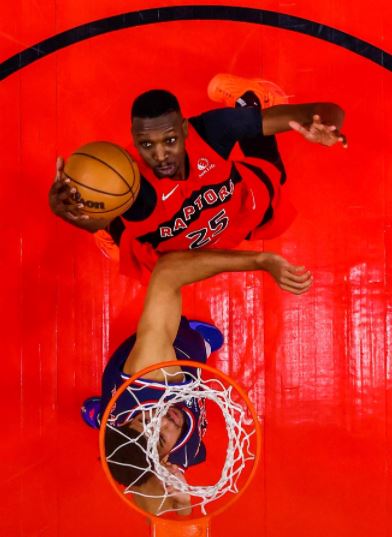 Chris Boucher v Philadelphia 76ers
Boucher gave a fantastic effort in the face of overwhelming opposition. After struggling for weeks with his jumper, he looks to have found his touch again. And though he was money from deep, what was more impressive was his timing on cuts and slashes. He matched Siakam in scoring, and he notched a new career high in rebounds. He made the game easier for himself by using his natural gifts of speed, length, and athleticism. More of this please.
| | | | | | | | | |
| --- | --- | --- | --- | --- | --- | --- | --- | --- |
| | Points | Rebounds | Assists | Steals | Blocks | FG | 3PT | FT |
| v PHI | 28 | 19 | 0 | 2 | 2 | 10/14 | 5/7 | 3/4 |
Honourable Mention: Watanabe v CLE, Siakam v PHI, Siakam v LAC, VanVleet v LAC, Siakam v NY
The Pinky – The Unsung Hero – Key Contributor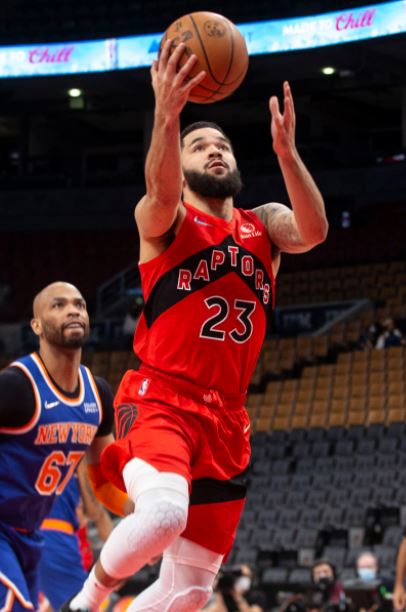 Fred VanVleet
In just two games, Freddy reminded everyone what it is like to have an elite point guard. It is no surprise that the Raptors won the games he played in. VanVleet quietly led all scorers in both wins (31). He did a little bit of everything against Los Angeles, and he torched NY with back breaking triples, each one detonating like an IED. Fred is the unassuming figure in a horror film that ends up being the killer.
Honourable Mention: C. Boucher, OG Anunoby
News and Notes
Return of the Matt – Matt Devlin made his return to the booth to call the Cavs game on Sunday night. It was nice having a familiar voice back. Those that filled in, did so admirably.
Ma Fuzzy Tribute – The Raptors showed a commemorative tribute video for Clippers Center Serge Ibaka when Los Angeles played Toronto on New Year's Eve. Unfortunately, with no fans in attendance the tribute felt hollow. Serge deserves his flowers and hopefully the team can try again the next time he is in town in front of a full audience.
No Fans for You – The Raptors reduced their capacity at home games to just 1000 people, however, out of an abundance of caution they opted not to open their doors to the public. The only people allowed in were players, staff, friends, and family.
Around the League
Omicron Wait – The NBA has announced that individuals that come in contact with a positive COVID case will have a shortened isolation period. As opposed to the 10-day wait that was previously enacted, players only need to isolate for 6 days before returning to their team.
Green with Envy – Poor Danny Green. He has yet to receive his championship ring from Toronto's 2019 team. Danny wanted to receive the ring in front of fans in Toronto, but COVID had other plans. His next opportunity will be in April when Philly comes back.
Houston in Peril – If you think times in Toronto are tough, please consider the state of the Houston Rockets. Not only are they firmly entrenched at the bottom of the Western Conference, but recent team infighting has spilled onto the court and locker room. Players are now refusing to play, throwing things at assistant coaches, and leaving games at halftime.
Forever History – Now that Steph Curry is the All-Time leader in 3 pointers made, every triple from here forward will be history. He was the first to reach 3000 career three pointers and he is no where near done yet.
King James Still Reigns – LeBron joined elite, and I mean elite, company when he scored his 36000 point. Only two other players in NBA history have accomplished that feat: Karl Malone and Kareem Abdul-Jabbar.
Up Next
The Raptors will host the San Antonio Spurs on Tuesday night before travelling to Milwaukee to face the Bucks on a difficult back-to-back. On Friday, they will be in Toronto for a game against the Utah Jazz. Their week ends with a Sunday evening game against the Pelicans.