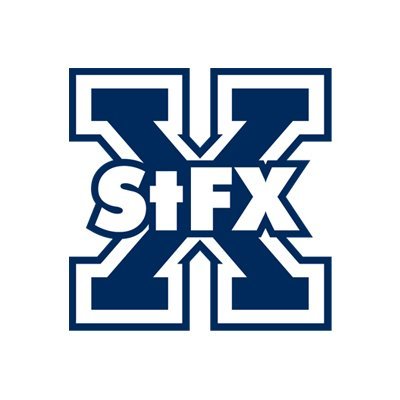 Keeping up with the U Sports Classes: How StFX is using NCAA Transfers and Prep Stars to Compete for a National Title
StFX is in a unique place as a program. As the hosts of next year's national Final 8 tournament, they're guaranteed an opportunity to play for the U Sports National Title.
That guarantee means one thing: they need their new recruits to come in and compete at a high level this season. The X-Men don't have the development leeway of many other programs across the country, the time is now in Antigonish.
With three fifth year starters and other key pieces returning, the X-Men weren't exactly lacking talent before this recruiting class but associate coach Tyrell Vernon believes they can help the program take the next step to serious championship contention.
"This year, we've kind of added the pieces for us to compete," said Vernon who will take over as the school's head coach following this season. "I think Dal's on a competitive level with the Carleton's and the top teams in the country, I think that was the difference. I think we knew we could compete with anybody in the AUS but this kind of brings us to, okay we're bringing in a recruiting class that brings us forward against anybody in the country"
In order to find those pieces to take them from 2020 conference silver medalists to potentially something bigger, StFX looked south. That's where they found Antoine Vernon and Jeremiah Usiosefe, both transferring in from NCAA Division 1 programs.
Former @OSUMBB player Antoine Vernon has taken his talents to St. Francis Xavier University in Nova Scotia. 👀🇨🇦 pic.twitter.com/gvRkEskggB

— NorthPoleHoops (@NPHShowcase) May 12, 2020
The advantage of recruiting players from that level is obvious for a U Sports program but it may not be as obvious why two players who succeeded in the US would decide to come back and play in Canada. According to Vernon though, it depends on the kid and what they're looking for that's best for them.
"You just have to look at the fit and the glove doesn't always fit," said Vernon. "You're looking at an opportunity where you can be in the country where you're going to live for the rest of your life."
Vernon and Usiosefe's experience at the Division I level will be relied upon heavily this season as head coach Steve Konchalski attempts to win his first conference title since 2006 and tenth overall. 
HUGE CANADIAN BASKETBALL NEWS 🏀

STFX announces Coach K will retire in two years and will be succeeded by Tyrell Vernon. THE QUESTION IS OVER https://t.co/xaO28D9GoB

— Lucas Meyer (@meyer_lucas) March 14, 2019
The 2020-21 season will be Konchalski's final as the head coach at StFX. After joining in 1975, the all-time wins leader in U Sports history will hope to go out on top in March at home. In the final class of his illustrious career, Konchalski is proud of what they put together. 
"Obviously Jeremiah and Antoine, they're going to bring an immediate impact no question about that," said Konchalski. "The younger players, the freshmen coming in, they're going to be the backbone of the team going forward that Tyrell's going to take over."
In terms of where they went for the younger players in the class, it's hard to blame them after the success of one of their stars last season. Avan Nava's transition from prep to becoming a conference Second Team All-Star was so natural that StFX went right back to Nava's alma mater, TRC, for two more recruits. 
After watching Nava play three years at TRC for Vernon (their head coach at the time), Konchalski knew Nava had something special about him.
"What impressed me about him when the game was on the line, he wanted the ball in his hands," explained Konchalski.
Nava was able to develop his game at the prep level, something Konchalski not only looks for in players now but is also thankful the option exists in the country.
"It's made recruiting a lot easier for coaches to walk into a gym and see that many players in the gym eligible or have the capability of playing at the next level," said Konchalski. "If you go to a high school game 20, even 10 years ago, there'd be one or two players on each team that maybe you're looking at where you come into an OSBA or prep game well almost everybody on the roster is capable of playing some level of U Sports."
For programs looking to win sooner rather than later, StFX's 2020 class could be a model going forward. With high level NCAA transfers, prep players and a CEGEP All-Star, they sourced from some of the best talent pools available to U Sports programs.
Last season ended in heartbreak and as hosts of the national tournament as well, being anything less than a contender isn't really an option.
"Losing to Dalhousie in the final this past year, in the locker room after the game we all said that we don't want to go into nationals as the host, we want to go in as the AUS Champion," said Konchalski. "I think we've put ourselves in a good position to be competitive at the top of U Sports basketball."
Last year when Dalhousie advanced to the finals they almost became the first AUS team to win the National Title since 2001. What team won in 2001 you ask? StFX in the second of back to back titles for Konchalski, as he joked "back when Carleton was chasing us".
Konchalski and Vernon are confident in their chances heading into next season. Their team returns virtually everyone and their recruiting class appears stacked. The question is, will this class live up to its potential, help Konchalski go out on top and set up Vernon for future success in the Atlantic? 
The Class:
| | | | |
| --- | --- | --- | --- |
| Name | Previous | Position | Hometown |
| Antoine Vernon | Oregon State | Guard | Hamilton, Ontario |
Coach's scouting report: Pure point guard, can shoot it at all three levels. Extremely competitive and coming in with a chip on his shoulder trying to make that last push for his university career, trying to lead us to wins.
| | | | |
| --- | --- | --- | --- |
| Name | Previous | Position | Hometown |
| Bennett Grumbach | TRC Academy | Guard/Forward | Toronto, Ontario |
NPH scouting report: Sharp shooter with a quick release and great size for position. Ultimate floor spacer who understands and buys into his role. As tough as it gets and a great team guy.
Name

Previous

Position

Hometown

Handy Disanka

Champlain Saint-Lambert

Forward

St-Lambert, QC

 
Coach's scouting report: Big body, 6'9, paint enforcer. Finishes great with both hands, soft touch, good feet. Second team CEGEP All-Star, I think he's going to help us down there as a finisher rim protector.
| | | | |
| --- | --- | --- | --- |
| Name | Previous | Position | Hometown |
| Gatluak James | TRC Adacemy | Guard | Windsor, Ontario |
NPH scouting report: Athletic wing who can knock down the 3 at a high clip. He's got a nonstop motor and makes things happen with or without the ball. Versatile and disruptive defender, can guard 1 through 4. Gatluak is a budding playmaker and further improvement here could make him an all-conference guy when all's said and done. 
| | | | |
| --- | --- | --- | --- |
| Name | Previous | Position | Hometown |
| Jeremiah Usiosefe | Western Illinois  | Guard/Forward | Hamilton, Ontario |
Coach's scouting report: Senior leadership. 6'5, 215, strong. Shoots it extremely well. For us he's going to potentially be an emotional leader. He's already at home starting his own fitness Instagram so you know he's very motivated. He wants to prove himself, wants to finish off his career in a different way. He can score on all three levels, very, very physical, can rebound his position. Can play the guard position but can also play the forward position.