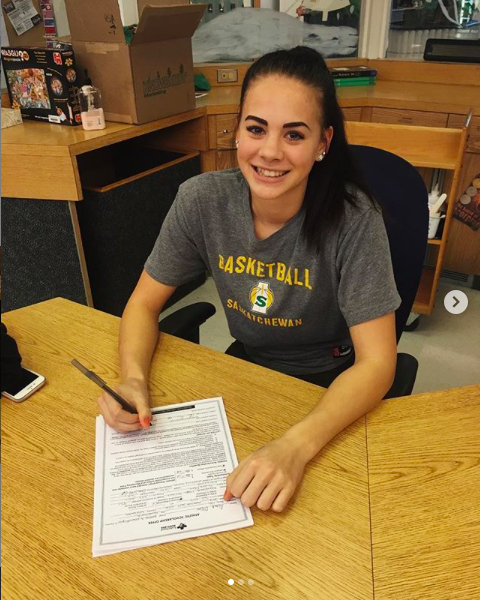 Alana Olson; Challenging yourself against boys
2019 5'10 G Alana Olson
Maidstone High School, Saskatchewan
Alana is a lengthy versatile guard with high IQ and strong leadership skills.  When her Maidstone squad faced adversity to start their season, Alana looked at those challenges as an opportunity to take on a bigger role to help prepare her team:
"We have a very small team in both numbers and height, so there are many challenges on both offense and defense. I have helped my coach in developing a zone defence in order to conserve energy. We have seen significant changes in terms of points allowed against us."

– Alana Olson, 

Maidstone High School Guard
For the remainder of the high school season, Alana is committed to better decision-making in terms of shot selection and ball distribution; she wants to get her teammates more involved in the offense and lead her squad to the provincial championships. She also wants to increase her shooting percentage from beyond the arc.
Through her first 8 games, Alana's stat line is very impressive with an average of 29.6-points, 10.2-assists, 20.0-rebounds, 4.06-blocks and 2-steals per game!
As far as individual improvement, the Lakeland College commit decided to find new ways to accelerate her growth as a player:
"I am working on getting faster and have been practicing with our boys team in order to challenge myself. I've also been competing in a women's city league since last fall. This has been very good in developing strength and quickening up my decision making as many of the players are former college or university players. I'm in the gym five days a week to improve my cardio as well as build strength."

– Alana Olson, 

Maidstone High School Guard
Benefits of playing with boys
Speaking physiologically
, men are physically stronger than women as a result of testosterone-induced muscular hypertrophy. They also 
have greater cardiovascular reserve due to larger hearts, greater lung volume, a higher red blood cell count and higher 
hemoglobin. Men are also generally taller than women by an average of 6 inches. It's fair to conclude that men have an overall advantage to women in terms of physical stature, and this is why young female athletes can significantly benefit from playing against boys. Some of the best female basketball players have competed against boys growing up. As a result, they have learned to better score the ball, become better on-ball defenders, and have quicker reaction time and decision making. If competition is hard to come by in your area, the option of playing against boys is always a great one!