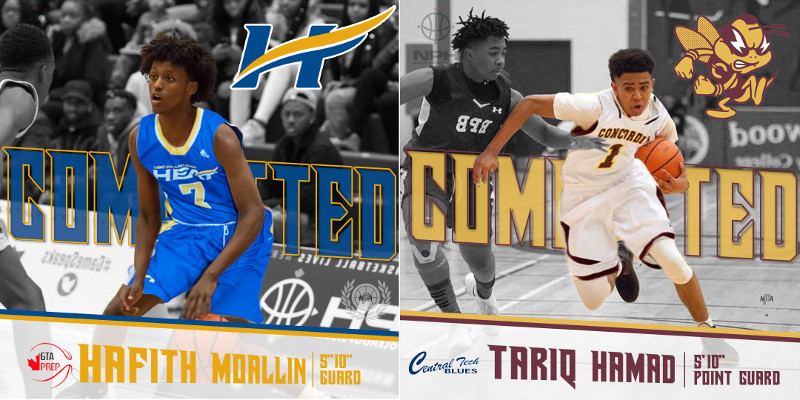 Hafith Moallin, Tariq Bakri Hamad Commit to UBCO and Concordia
Two of the NPA's finest senior point guards have committed to stay home in Canada and play for USports programs. The University of British Columbia – Okanagan picked up Hafith Moallin at point guard and Concordia gets a high quality freshman in Tariq Bakri Hamad.
Moalin heads all the way West to British Columbia to help turn the page for UBCO. He's not stranger to adversity. Moalin started off as the seventh man on the roster for eventual championship contender GTA Prep of the National Preparatory Association.
Even with two future NCAA stars AJ Lawson (South Carolina) and Kaosi Ezeagu (UTEP) on the roster, he carved a place for himself on the starting line up as the point guard. Moalin earned every minute and made the most of it. When he is given an opportunity he really knows how to maximize.
"My mentality towards hard work on both side of the court sets me apart. I play with a lot of pride. My play making abilities are going to put my future teammates to score more efficiently."
In his time with the MIssissauga Monarchs, under Coach Jason Fowler, he was the epitome of leadership, from a production and vocal standpoint. He was around a 20 points per game prospect for the Monarchs.
Moalin averaged 8.6 points, 3.4 assists and 3.4 rebounds per game at GTA Prep.
Tariq Bakri Hamad's game has grown every year. While suiting up with Hoops Canada and Peoples on the club level he's used his strengths to set up teammates in high percentage situations to score.
His body has evolved by adding strength and mass. The lefty made a lot of threes for Central Tech this season as well. When he wants to go into scoring mode he is very capable. The next level will challenge him to operate within the trees on a more consistent basis, yet again this is the type of guard that rises to challenges.
"I always believed that it doesn't matter what you look like, what language you speak or where you come from, if you're good enough, if you got game, coaches will want you."
In his time with Coach Kevin Jeffers and Coach Jermaine Holness, they have both placed a high level of accountability and held standards high. Hamad brings that psyche to Concordia for the Stingers.
7.6 points, 2.3 assists and 2.1 rebounds
Quebec's Concordia Stingers have improved since Coach Rastko Popovich arrived three seasons ago. They have been a top 2 team in the RSEQ.
By recruiting players like Hamad it enhances the culture.