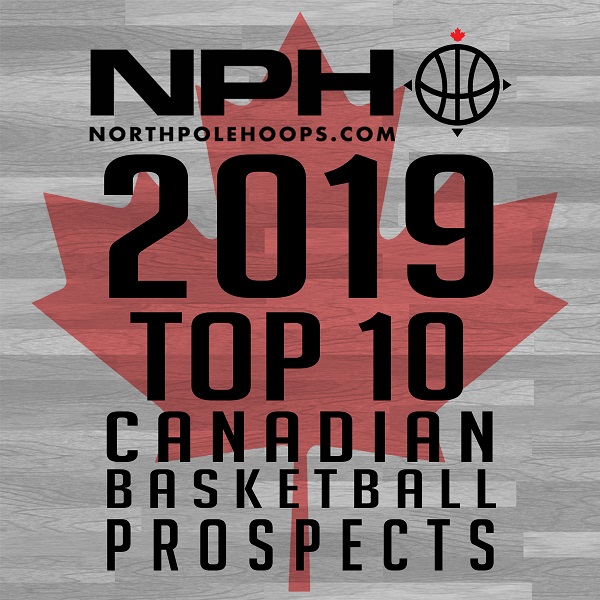 Canadian 2019 Top 10 Prospects – Spring Release
Canada's 2019 class of basketball prospects is again projected to put out more than 50 NCAA D1 prospects and over 100 Usports and CCAA talents. It's simple, when people ask if it's beginning to slowing down in Canada, the answer is no. This is just the beginning.
Without jumping the gun, we can say that there are at least three NBA potentials in this class with perhaps more to discover. Finding the value that these prospects will bring to the college level before the pros, is often discretionary. Yet learned habits, over time, often provide a scope of what is yet to come.
Jamal Murray of the Canadian class of 2015, exuded the habits necessary to project high…lottery pick kind of high. Since being identified in the 8th grade he has been relentless, self-accountable and maniacal about training. Habits.
Production + Potential + Intangibles = Rankings
The formula is not a perfect science due to the fact that potential and intangibles can't truly be quantified.
That being said, the players in North Pole Hoops Top 100 have been evaluated a minimum of three times before they are ranked, and as for the Top 50 usually 10 or more sightings.
The Top 10 Canadians are producing and getting recruited highly, but have yet to scratch their potential.Their upside is through the roof. The question is whether they maximize on potential.
North Pole Hoops National Player Rankings are reviewed and necessary changes are made every four months. Next week we're look in at the 2020 class of Canadian basketball prospects.
#
Player
POS
School
HT
WT
Commitment
The one change in this release of the 2019 class is Quincy Guerrier moving up a spot to two.
Quincy has absolutely exploded in the last few months while at Thetford Academy in Thetford, Quebec and on the AAU circuit with Brookwood Elite.
His all around improvement has been tremendous and he is now vying for that number one spot regardless of whether or not AJ Lawson decides to move to 2018 and go to college.
Quincy is very confident that he is the number one player in the class.
This is one of those 1. A) and 1. B) situations since AJ produces and still has a very high ceiling to project for, taking into account his long limbs, downhill speed and athleticism. This is not to say that Quincy has capped. He's not close to capping. There will just be less of a dramatic transformation overall.
AJ Lawson is being recruited heavily by South Carolina and Baylor as it stands with others deciding on whether or not they can get in the mix.
Tyrese Samuel is tired of being criticized on his motor and will and been turning up lately as well. It's really a crap shoot when it comes to what these players will become in a few years in comparison to one another.
Jahcobi Neath is the one to keep a close eye on as he continues to strengthen his lower body and deal with growing pains. When he is playing at 100% health and strength he is a scary sight to see.
This year's National team at the U18 level will have several of the Top 10 in the 2019 class on the team. It will be a good measure; not to rank or compare to each other, but to see whether they can come together to get the job done and win gold in FIBA Americas on Canadian soil.