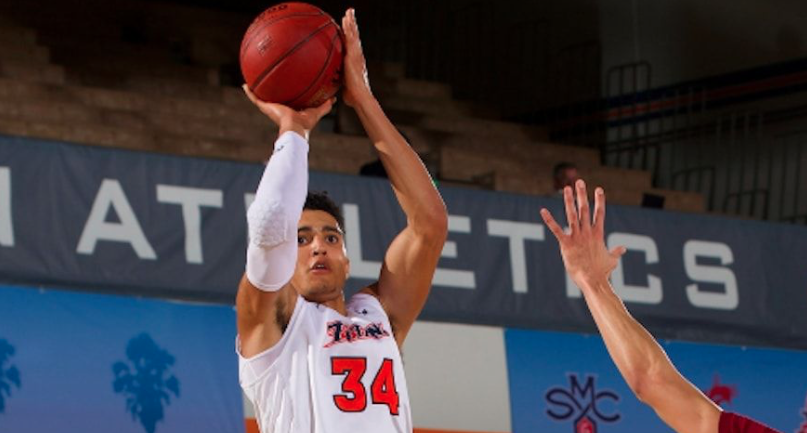 Toronto Native Jackson Rowe Anchoring CSU Fullerton to First NCAA Appearance Since 2008; Mid Major Rising Star
Written By Max Feldman
Jackson Rowe, a 6-7 sophomore, from Toronto has flourished in his second season at Cal State Fullerton. Rowe was awarded the Freshman of the Year in the Big West after the 2016-2017 season, and was in the Big West Preseason All Conference Team prior to his sophomore season.
The Canadian national was rated as a 2 star prospect coming out of Wasatch Academy in Utah, with CSU Fullerton being his only division 1 offer. It is now safe to say, Jackson Rowe has surpassed all expectations.
Fullerton was projected to have one of the best seasons in their programs history during their 2017-2018 preseason media day. Today, they're in the NCAA tournament for the first time since 2008 after winning their conference tournament. Much of their success has been a product of Rowe's improvement, and the strong investment the Fullerton staff has made in the young Canadian's potential.  Rowe told NPH, "They are really behind me, they give me confidence. They always have my back."
With a good frame for a forward, Rowe has a very strong post game and has the ability to step out to the three point line. He's a prototypical NCAA stretch power forward. Rowe has a similar play style to fellow Canadian, Dwight Powell. He's a bruiser inside, strong on the boards and has improved touch.
During his freshman season, Rowe shot 32% from the three point arc. With a year of experience, Jackson has improved his shooting numbers to an impressive 41% from deep.  Rowe, carrying much of the load inside for Fullerton, is shooting 58% from the field.
Currently, Jackson Rowe is putting up 12.2 points and 6.8 boards per game. On November 26th, Rowe put up a season high of 25 points, going 10/10 from the field in a win over Harvard.
Rowe's versatility has grown, becoming a threat at multiple levels. When asked about his areas of improvement, Rowe told NPH, "Expanding my offense game, becoming an on court leader and focusing on winning each game."
Rowe's number are up across the board from his freshman season. His usage rating within the Fullerton offense is up over 1%, turnover numbers are down, and his free throw percentage is up 6%, to 77%.
With the strong improvement, comes more trust. After graduating four seniors after Rowe's freshman season, Fullerton now only has 3 upperclassmen on their roster. "I definitely am more of a leader this year. I have to set the example for the younger guys." Rowe told North Pole Hoops when discussing the role change from his freshman to sophomore season.
Jackson Rowe found a great fit at CSU Fullerton in a league mostly void of Canadian talent, representing the depth and potential of Canadian players who go under recruited. Rowe thinks that Canadian basketball is here to stay at the NCAA Division 1 level. "We are getting a lot more recognition. There is a lot of talent Canadian talent all around division 1, and I think it will only improve."