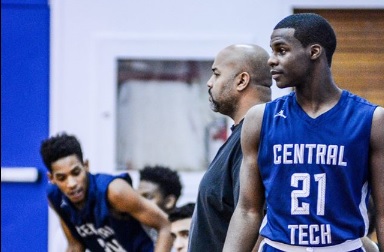 Toronto Guard Steven Rwahwire is EXPLOSIVE!
Steven Rwahwire of the Central Tech Blues has had his imprints all over CT's success, who holds the #1 spot in the NPA (12-3).
"Growth and desire–since he came into the program, those are the best to describe his approach to the game; to his education and to life," said CT Head Coach Kevin Jeffers.
A 6'2 combo guard, Rwahwire has high level ball speed and ability to attack the rim at will. Establishing himself as on of the TOP prospects in Canada!
"When we are down we look to Rwahwire; when we need a spark he comes through in the clutch. Steven truly epitomizes what we were trying to instill in our players from day one. The heart of a champion."
Catch Steven Rwahwire and Central Tech March 31-April 2 as they compete for the first EVER NPA National championship!