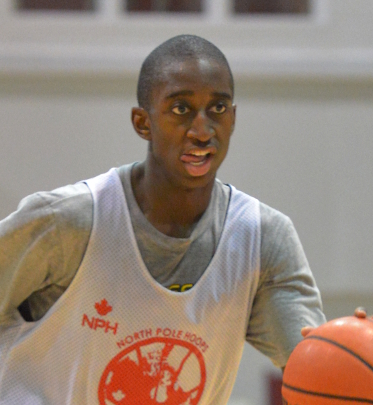 Shakwon Barrett Commits to The Tech Academy Titans, Will Play in National Preparatory Association
Toronto's Shakwon Barrett has committed to The Tech Academy Titans out of Sault Ste Marie, Ontario, and will play in the inaugural season of the National Preparatory Association.
The move provides Barrett with an opportunity to remain close to family, while pursuing his goals.
"It's an option closer to home. My parents will be able to see me more often."
Barrett, a 6'4 guard was previously at highly acclaimed Findlay Prep out of Henderson, Nevada, where he played behind a plethora of high major NCAA guards, including LSU freshman Skylar Mays and Duke transfer Derrick Thornton, currently at USC.
"Although I was on the bench, I learned a lot from them. I learned how to be vocal , how to compete, and how to maintain composure," Barrett told NPH.
Barrett is fresh off of a successful club season with Grassroots Canada, where he boosted his recruitment–currently being recruited at the NCAA level by UMass-Lowell, Northeastern, and Toledo to name a few.
Entering his final prep year, the former Oakwood Baron spoke about his development process, and how he hopes to be a leader for The Tech.
"I'm always ready for the challenge, All or nothing, I feel like I've learned a lot through high school…playing on big stages, small stages and being part of a winning program. I want to put my heart on the floor and do everything I can."
Regarding competing in the National Preparatory Association:
"I like the idea because everyone wants to go south of the border…keeping people home and hoop spirit alive in Toronto and in Canada will give a lot more Canadians opportunities, and show the real talent that we have."
The Titans will be poised for a major season, hunting for an NPA National title, and beyond. The group will play on the National Grind Session circuit, featuring elite talent across the United States.
The roster will be star studded, including 6'10 Matur Maker, plus a collection of size and athleticism that you will be hearing about shortly.
Barrett's role with the squad will be to find the middle ground.
"We have a lot of height, I'll be playing the one I don't have to be a score first guard but have to stay a threat. A balance of scoring and facilitating…being a floor general."