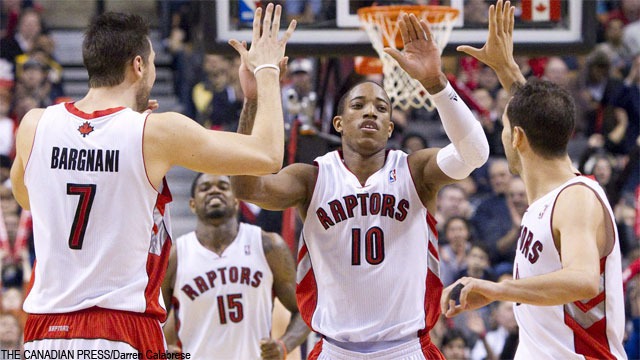 Raptors host Argentinian Champs, Warriors in Vancouver for Preseason
The Toronto Raptors will enjoy a busy and exciting preseason run into the 2016-2017 season, with Argentinian Champs San Lorenzo de Almagro visiting Toronto, Golden State heading up the West Coast to play in Vancouver, and Denver heading to Calgary to take on the Raptors.
https://twitter.com/WatchRaptorsHub/status/753549603912290304
The visit from San Lorenzo de Almagro, which takes place on October 14th at the ACC, marks the first time an Argentinian team will face an NBA opponent, and joins a long list of international competition the Raps have faced.
"The Toronto Raptors have a proud history of playing host to international clubs and our organization and fans look forward to welcoming San Lorenzo de Almagro to our city," said Raptors President and General Manager Masai Ujiri in a press release. "We are honoured to join with the NBA to promote our global game."
Dating back to 2003, Toronto has also taken on Panathinaikos (Greece), Benetton (Italy), Maccabi Tel-Avia (Israel), Zalgiris Kaunas (Lithuania), CSKA Moscow (Russia), Real Madrid (Spain) and Maccabi Haifa (Israel).
On October 1st, the Raptors head to Vancouver to take on NBA Finalists Golden State Warriors and their new addition of Kevin Durant.
https://twitter.com/balldontstop/status/770474450055725057
The Raptors, who have made a mission of representing not only Toronto but all of Canada, have held preseason games in Vancouver for the past two seasons, once the home of the NBA's Grizzlies. Most recently the Sacramento Kings and the L.A. Clippers made their way North of the border to battle it out in Van City. The Raptors also held preseason contests in Montreal, and Ottawa last year.
The @Raptors are coming to #YYC for an NBA preseason game in October! https://t.co/vYy2koE41o #wethenorth #calgary pic.twitter.com/8Z3RR8vRXx

— Daily Hive Calgary (@DailyHiveYYC) August 30, 2016
In a game that will arguably be more exciting for Canadians to watch than the new-look Golden State coming to town, Jamal Murray will have his professional Canadian debut in Calgary on Oct. 3 when the Denver Nuggets head to Alberta. The last time the Raps were in Alberta was 2008 when they took on the Denver, and the last time they visited Calgary was 1996 when they battled the Vancouver Grizzles for the Naismith Cup.