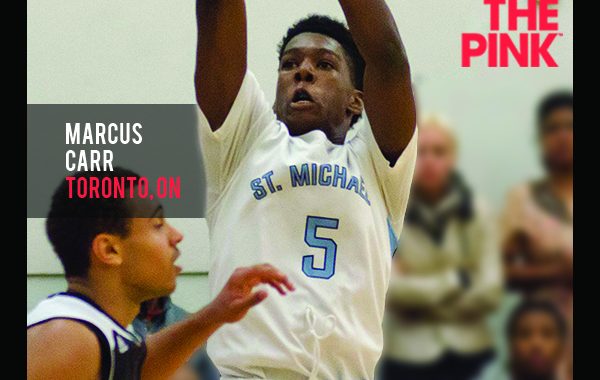 Marcus Carr – Woodbridge, Ontario – NPH Player of the Month Powered By BioSteel
Marcus Carr is a determined young man.
He has built a training regimen from a young age and has been following through ever since.
The St. Michael's guard is goal-oriented and when he steps in the gym, he is very comfortable with the work load ahead.
"I don't see it as a chore, I know where I want to go, what I want to do and how to pursue it; training is the only thing that will take me where I want to go, it's mandatory."
Carr said that he has taken the the advice he's been given by both his trainers, Kyle Julius and Gary Correia–both former NCAA D1 athletes.
"You have to love the pain and love going the extra limits, when you push yourself," explained Carr.
It runs in the family.
Carr has an older brother, Duane Notice, that is excelling at the highest levels of college basketball, playing for South Carolina (NCAA).
"Duane is a big influence for Marcus–growing up Marcus always idolized Duane and looked up to him. The influence is to love the game of baskeball," his father Clive told North Pole Hoops.
"He has a passion for the game, a desire to play and compete," continued Clive.
Marcus himself does not underestimate the impact his older brother has had on him saying, "It's huge because growing up as a little kid, I'd be at all his games, and I learned to love it; Duane is the main reason I picked up a basketball."
The 6'1 guard has had a significant impact on the success of the St Mike's Blue Raiders, averaging 15 points, 4 assists, 4 rebounds and 4 steals, as he continues to improve by the game.
St. Mike's is the #1-ranked High School team in the country, currently undefeated on Canadian soil, as they enter the 55th Annual SMC Tournament this weekend.
However, during the Holiday in New York, Carr and the Blue Raiders tasted their first defeat at the hands of Roman Catholic, who is the top team in Pennsylvania.
"I think this past tournament in Binghamton kind of set us down a bit, and let us know we're beatable," said Carr.
"We have a lot of work to do, we can get a lot better."
As for his individual game, Carr is constantly finding ways to evolve.
"I want to take constructive criticism on my weaknesses, then I tell my trainer and we attack it."
Early in the high school season, Carr has been making adjustments in his game, month to month.
SMC Head Coach Jeff Zownir weighed in on Carr's development.
"I think he's made great progress…we always knew he could score the ball, but he's taking better shots now, and showing a maturity to him," which became evident on their last trip in Binghamton said Zownir.
Carr's back court teammate Nelson Kaputo, has been pushing him in practice throughout the season as the two talented guards have been constantly challenging each other.
Zownir also coached Notice (South Carolina) and Malcolm Duvivier (Oregon St) who developed a similar dynamic in their high school years.
"Marcus is in that same category, he's got two more years to prove himself as he continues to get better."
In the meantime, the Blue Raiders focus on getting back to OFSAA, with their sights on the gold medal, after a heartbreaking loss last March to Notre Dame (Brampton).
"We can't get complacent at all, we need to be hungry, we all want to win, we all want that OFSAA gold medal," Carr passionately explained.
"Competition, one of the biggest things that drives me, I love competing. I love to win and hate to lose."