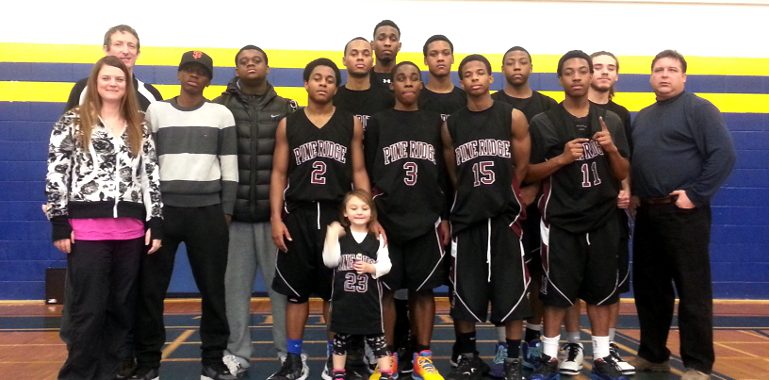 Pine Ridge Pumas Capture Mother Teresa Invitational
SCARBOROUGH, ON–Point blank, these two teams were not who I anticipated would be in the finals of the Mother Teresa Invitational.
Pine Ridge and J.C Richardson had to be beat nationally ranked teams to get to the championship game.
J. C Richardson got passed #7 ranked Vaughan with a 69-62 win, and Pine Ridge went through both #8 ranked Eastern Commerce 75-71; before their overtime battle with Thornlea, #NPHTop25 honorable mention.
The Pine Ridge Pumas took care of business in the finals and had control of the game until the final buzzer sounded. A balanced contribution from their starters was ultimately the difference in the game. Four of five starters had at least 14 points in the end. All this considered, this still wasn't a strong showing from the Durham region leader, who is now 10-0 in league play.
Turnovers came in abundance for both teams when full court pressure was on. They can expect a lot of pressure in the upcoming Silver Fox tournament in Hamilton.
The only lead J. C Richardson had in the game, came to them in the second quarter for about 30 seconds, before it switched back to the Pumas. Chase Vassell and Pine Ridge went on to take the MT Invitational 79-68.
Vassell had 14 points in the contest and is leading the GTA in scoring with the most 25+ point games, following the footsteps of Pine Ridge alumni Jamal Reynolds (Canisius Commit).
A big factor for the Pumas was Jay Williams because of the attention that he demanded in the low post and the size he had compared to JCR defenders. Williams cleaned up around the basket and finished the game with a team high 20 points.
Asides from the highlight reel that we know to be Marcus Ottey, the JCR team looked to be out of gas and drained mentally.
This was perhaps the sloppiest finals I had ever set my eyes on. A lack of offensive execution and poor shot selection was the sign in the first quarter that told the rest of the tale.
At times, there was no one who could stop Ottey from getting to the basket. He put the team on his shoulders and was crafty in finding a way down the lane. The high flying guard finished with a game high 29 points.
Jordan Henry, a 2017 standout lead guard, dispalyed skills beyond his age, and ended with 15 points.
As the season goes on, the Pumas will need Henry to play a more composed game at the point and control the tempo against teams that like to run and gun.
As mentioned, the next opportunity for both teams to make a mark is at the 43rd Silver Fox Invitational tournament which will take place in Hamilton from January 31 to February 1.