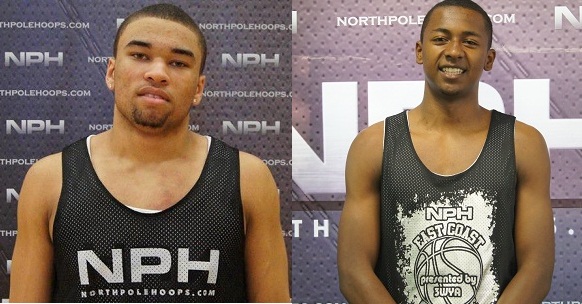 Jayden Nordin and Travis Adams commit to Saint Mary's continuing basketball journey
Halifax,NS–Jayden Nordin and Travis Adams went from winning silver at Nationals, to the NPH Showcase, to High School, back to Nationals and are now going onto the CIS together. Citadel High School's dynamic duo is taking the next step in their basketball careers together as they both have decided to stay in Halifax and play for the Saint Mary's Huskies.
Nordin spoke about having his teammate Adams joining him at SMU, having first made the commitment "We had a talk about going to the next level together before," Nordin told NPH. "We never pressured each other because we both looked out for one another's best interest. It means the world to me, he's not only a family member to me, but a true best friend and I wouldn't want it any other way."
Adams felt a similar way "It means a lot to play beside each other for a couple more years. To also help each other with anything needed like school, basketball drills, and work outs."
Both players have taken similar paths together and had success at each level.
Jayden Nordin (NPH #110 ranked 2013), a 6'0 combo guard that has an ability to score when it is needed and can drive to the basket. Nordin offers a number of looks from the point or shooting guard position. Nordin has a built himself a solid resume which includes a Silver Medal for team Nova Scotia in 2011, a 2nd team all Canadian at the 2011 nationals, leading one of the top high school teams in the country, and earning a national team cadet invite. In the end Nordin was looking at Acadia and Saint Mary's.
Travis Adams (NPH #45 ranked 2013), a 6'3 small forward who is a hard worker even though he is undersized has continued to work and improve his game using his athleticism.  Adams has a similar resume that has seen consistent success on the national stage. Winning a silver medal with Nordin in 2011 for team Nova Scotia, earning a 1st team all Canadian in 2011, a 2nd team all Canadian in 2012, playing for one of the top high school teams in the county, and an NPH Senior Showcase MVP to top it all off.  Adams had St. FX and Lakehead also giving him offers.
Saint Mary's Head Coach, Jonah Tussag spoke about getting two of the top Nova Scotia players "I'm excited to have Travis and Jayden choose Saint Mary's. They're quality players with a great work ethic, and are both high character kids. After playing in high school together, I think they're excited to continue playing together at the CIS level, and I'm thrilled they decided for it to be at SMU."
Both Nordin and Adams said that playing close to home was a large part of their reason for choosing Saint Mary's, as well as Coach Taussig in their eyes is doing a great job with the program.
Saint Mary's adds two good character pieces to a talented roster. Look for Nordin and Adams to develop together in the next stage of their basketball careers.