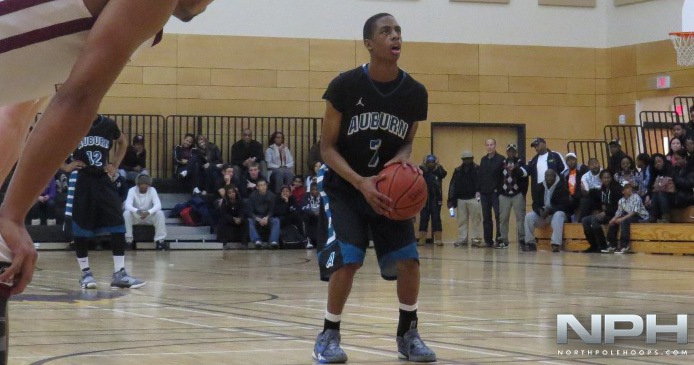 Auburn High Takes 2-1 Lead Over Citadel in Battle of Nova Scotia's Elite
Halifax, NS—Whenever Auburn and Citadel face off, it guarantees to be one tightly contested battle. This year's third meeting between the HRM rivals proved to be another classic as it went down to the wire. The Auburn Eagles pulled out victorious, defeating Citadel Phoenix 94-87 taking a 2-1 lead in the meetings so far this year.
The game started off with a bang right from the tip as both teams scored within 30 seconds of play setting the tempo for a high paced athletic battle.
Travis Adams, who has been a standout for Nova Scotia and Citadel, started this game on the bench due to an injury. Adams was not his usual self and was neutralized being held to only five points in the game. The first quarter went back and forth as the rivals traded buckets, with neither team pulling away, until the end of the first quarter as Auburn took a six point lead into the second Q.
A turnover ridden start to the second quarter allowed Citadel to bring themselves back into the game. However, Jordan Crawley started to work down low against the Phoenix who were not as strong with Adams being limited due to injury.
Crawley poured in eight points in the second quarter which helped Auburn end the half on a 12-3 run. Citadel's Isiah Thomas was the leading scorer for the Phoenix at halftime with eleven points, eight of them coming in the first quarter. The Eagles lead by eleven heading into the second half.
The second half was a different story for Citadel as they started to storm back with a strong offensive third quarter by Jayden Nordin who put the team on his back scoring ten points in the quarter, Liam Johnson added eight in the frame.
Defensively, Colin Smith became a force, making it nearly impossible for Auburn to produce on penetration. Auburn's attack was slowed down to nothing as Citadel took momentum back. This emotion and intensity rallied the Phoenix to 21-7 run and a one point lead heading into the final quarter.
Auburn's head coach Lance Sparks spoke about the collapse in the third quarter "I think they caught us on the heels. I told the guys in the locker room that Citadel is going to go on a run and I know Mark (Parker) gets his kids prepared and all we've got to do is weather the storm. They went up and they outscored us by 18 in that quarter and then we were able to pull it back and chip away."
Citadel's hot start to the second half carried through into the fourth quarter as Nordin continued to lead his team on both ends of the floor. The Phoenix went on a 7-0 run to stop the Auburn attack and managed to pull ahead by four with 6:44 left in the game.
Then the battle between two friends and teammates on the provincial team started to heat up. Davonte Provo who had been quiet offensively, knocked down a huge three pointer right in the face of Nordin and gave him a few words with a finger wag. Provo spoke about his slow start offensively, "I wanted to come out and get my teammates involved first so that they could have a strong game."
A few moments later, Nordin responded with a three pointer of his own and yelled in celebration as the Phoenix took the lead back. Auburn would get a few key buckets from Provo and Crawley giving them a four point lead with 2:41 to play. However, Nordin looked like a man possessed and would continue to battle knocking down a clutch three to bring the lead to only one. The Nordin – Provo battle continued as Davonte fouled Jayden hard in the final seconds of the game.  Auburn would hold on for the 94-87 victory.
"It was a good game. It went both ways, both teams played with a lot of emotion, our guys are continuing to get better. We're learning how to handle when teams throw runs at us. Citadel is a great and well coached team and they're one of the top teams in Nova Scotia, I'm just happy to get the win," Auburn Head Coach, Lance Sparks explained.
"It gives us more confidence that we can go out there and play hard and get the W" said Provo after the victory.
These two teams will more than likely meet once again with a potential to meet twice as they both keep focused on the goal of winning provincials. When and if they meet, you can guarantee it will be a hard fought competitive game.
NPH Top Performers:
Auburn:
Davonte Provo – 22pts
Jordan Crawley – 20pts
Johneil Johnson – 17pts
Citadel:
Jayden Nordin – 31pts
Isiah Thomas – 13pts