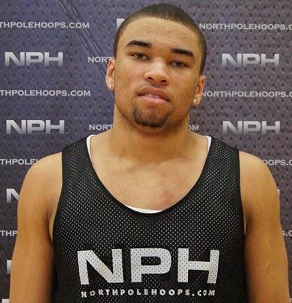 Travis Adams Terrorizes in Heated Battle Between NPH #13-Ranked Citadel and Auburn
COLE HARBOUR, NS--We tabbed this as a matchup of potentially the two best teams on the East Coast, but it was more than that. It was also a statement game in a matchup of NPH #13-Ranked Citadel competing against rival Dartmouth (Cole Harbour) based Auburn; the area will always provide intense matchups.
This night would be no different, with 3:21 to go in the third quarter, Travis Adams attacked for a transition lay-up in which Kellan Duke was whistled for the block call, a basic basketball play.
The intensity was awesome as the kids played like it meant something, so refreshing as the officials managed it nicely cooled it down and let the players play.
But on this night Citadel would not be denied as Jayden Nordin nailed a wing three as the buzzer sounded for a decisive 25-16 second quarter to put them in the drivers seat.  Travis Adams led the first half attack and set the tone in owning the paint with 19 first half points.
Auburn came out in the third quarter behind Davonte Provo's 14 poitns in the quarter. Provo displayed it all attacking off the bounce, drawing fouls, dropping a three and taking a charge on a key mini run.  Auburn outscored Citadel 31-28 in the quarter to close the game score to 67-60.
As the game grew closer and the full capacity crowd could sense a home team run, the intensity of the fourth quarter escalated as every play and every call for both teams got the players and fans off their seats.  Auburn continued its run and closed the gap to 78-77 on a Johneil Johnson steal and lay-up with 4:30 remaining.
As all great point guards do Isaiah Thomas of Citadel took control of the game by scoring six of the next eight points with a tough runner at 2:08 reaming to extend Citadel to a 86-79 lead.
Citadel closed out the game at the line for a 93-83 win and won round 1 of this heated city rival.
But on this night the game belonged to Citadels Travis Adams who attacked out of transition, mid lane jumpers and runners going to his supposed weak hand to terrorize Auburn for 38 points.
Nordin and Thomas added 20 and 18 respectively, while Auburn was lead by Provo's 28 points and Johnson chipping in with 17.
As NPH interviewed Adams following the game you could see the battle he endured with a boxer cut below his eye and a small trace of blood and sweat mixing together.  Adams smiles and says "that's what basketball is, a physical battle and I love to compete that way."
Adams credited his balanced team and hung their season success to this point and in the future on their ability to play together and off each other as great scorers.
NPH Top Performers
Citadel
Travis Adams 38
Jayden Nordin 20
Isaiah Thomas 18
Auburn 
Davonte Provo 28
Johneil Johnson 17
Daniel Sule 11