Canadian Cadet's Advance to World Championship Quarter-Finals to Take on U.S.A!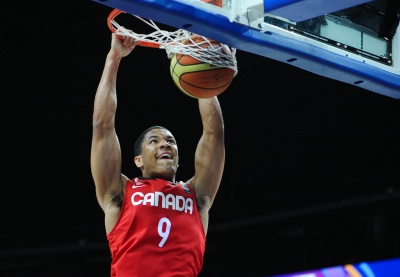 NPH TOP PERFORMERS
KAUNAS, LITHUANIA – The cadet men`s national team was able to jump up early on Korea in the opening quarter and carry that lead throughout the game, as they won 82-61.
Canada finishes the preliminary schedule of the FIBA U17 World Championship with a 3-2 record. The team will take on U.S.A in the quarter-finals round.
Canada`s scoring was led by Malcolm Duvivier (Toronto, ON) who scored 16 points, while Justin Jackson (Scarborough, ON) recorded a double-double with ten points and 13 rebounds in the game.
In the opening quarter, Canada had a great start to the game by building a lead as large as 14 points in the quarter. When the quarter concluded, Canada was able to take a 20-10 advantage into the second frame.
During the second quarter, Korea was able to come out quick in the quarter and make a run. With 6:34 left in the quarter, Korea tied the game up at 23.Canada then slowed down the Korean attack and at the half, Canada owned the 32-27 advantage.
In the second half, Canada was able to increase their lead to 54-42 after three quarters.
In the fourth, Canada continued to increase their lead and were able to play all players in the game. Each player on the team was able to record at least a point in the game. Canada went on to beat Korea, 82-61.
For box score, click here.
Next up is USA, Friday morning…stay tuned!