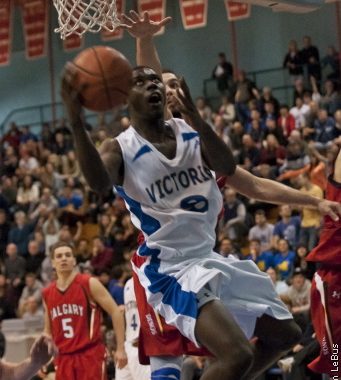 VIDEO: Terrell Evans Hits Buzzer Beater Sending Victoria Vikes to CANWEST Final Four!
NPH TOP PERFORMERS
Victoria
Ryan Mackinnon- 33 points (11/18 FG), 8 rebounds, 3 assists
Michael Acheampong- 18 points, 3 steals
Calgary
Tyler Fidler- 30 points, 6 rebounds, 3 assists, 5 blocks
Jarred Ogungbemi-Jackson- 21 points, 4 rebounds, 5 assists
VICTORIA,BC–CIS star Ryan MacKinnon spearheaded Victoria's offensive attack, however it was team mate Terrell Evans who played hero in exciting buzzer-beateing fashion to lift the Vikes over Calgary!
This victory punches a ticket to the CanWest final four to player Fraser Valley in Saskatoon, Saskatchewan!
[youtube VGeCaNOrZyc]