Jahenns Manigat & Creighton Kick off Day Two…Melvin Ejim, Iowa State Thinking Upset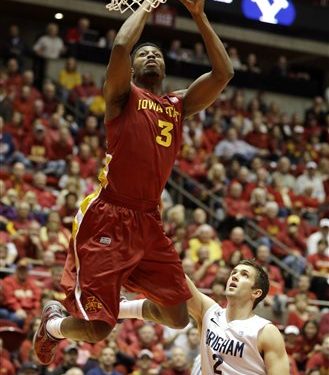 Day two of the madness begins and still plenty of Canadians are chomping at the bit to get their tournament started.
Here are the games and times featuring representation from the North.
#10 Cincinnati vs. #7 Creighton 2:45 p.m.
CanCon: Jahenns Manigat 6.1 pts 2.1 rebs 2.1 ast
The junior point guard out of Ottawa is the seventh foreign player in Creighton history, but first ever Canadian. He led the MVC in three-point percentage during conference play a year ago, so we know he can shoot the ball. He lead Creighton over Wichita State to claim second straight Missouri Valley Conference title, posting a season-high 16 points including a layup with 11.5 seconds to seal the deal.
#10 Iowa State vs. #7 Notre Dame 9:45 PM
CanCon: Melvin Ejim 11.2 pts 9.3 rebs, Naz Long 1.5 pts 0.8 rebs 1.1 ast
If you want to see one of the most underrated Canadians, and players in the entire NCAA for that matter look no further than Iowa State's Melvin Ejim. He's an absolute double-double machine. A big game on the grand stage can make him a household name.
#11 Minnesota vs. #6 UCLA 9:57 PM
CanCon: Maurice Walker 2.3 pts 2.0 rebs
Maurice Walker's Minnesota Golden Gopher's will be in prime position to pull off an upset here. Many feel that UCLA is overrated, and the Golden Gophers physicality will cause them problems. Walker hasn't played a significant role for his team, however another Canadian to track, and an opportunity could present itself in March.