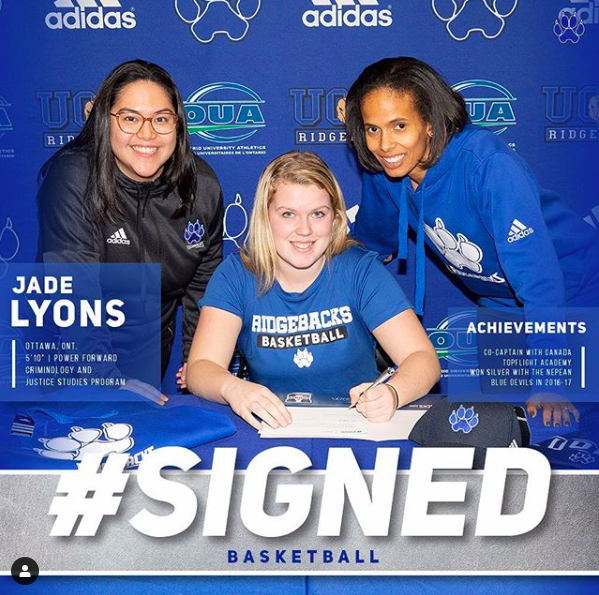 Historic Commitment, 2019 Jade Lyons To UOIT
2019 5'10 F Jade Lyons
Canada Topflight Academy, Ontario
Jade is a high-motor, versatile scoring forward with contagious energy and a tireless work ethic. She has recently made history as the first ever UOIT Ridgebacks Women's Basketball commit, signing up to play for Coach Christa Eniojukan in their inaugural 2019 season.
As co-captain with CTA, Jade has been challenged in new ways:
"I've been learning how to develop leadership and the proper type of leadership for our very young team this season. Playing in the Circuit Basketball Quebec (CBQ) has made me a tougher and stronger player."

– Jade Lyons, Canada Topflight Academy Forward
Jade has been an invaluable contributor to this year's squad, which was evident when she scored 21 points against a very tough Maison des Jeunes team in the regular season. For the rest of the school season, her focus is on improving her jump shot, especially from the  mid-range while also polishing up her ball handling skills and developing an all-around player mentality. She wants to end her senior year with a CBQ championship.
The four-year honour roll student will be entering UOIT's 
criminology and justice studies program, alongside the concurrent education program. As a decorated scholar and athlete, time management has been essential in Jade's success.
Here are a few tips to be most efficient with the hours in your day:
Prioritize tasks; make a list of the most pressing and important things to accomplish and designate a time to get it done.
Utilize waiting time; if you're in the car, waiting for practice to start, or have down time between games, that's free time where you can put your phone down and be productive!
Get organized; if your pieces are in order it'll be easier to navigate your responsibilities.
Turn daily tasks into habits; if you have a responsibility that repeats itself daily – working out, practice, or homework for example – build it into your routine. That way, your to-do will become a habit instead of a hassle.