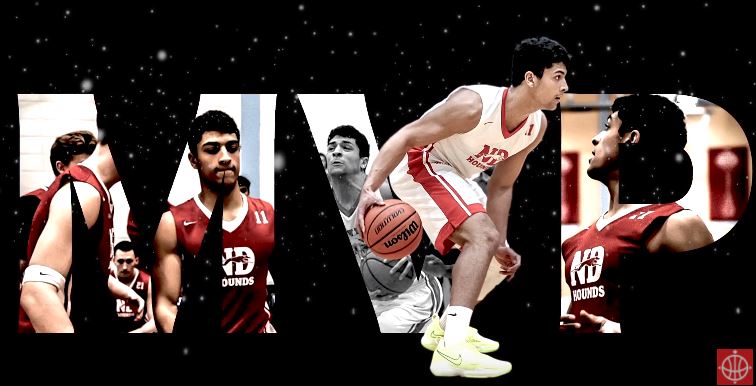 NPA MVP Jashon Henry Named Signature and BioSteel All Canadian Ahead of Huge Summer
Jashon Henry has shed light on an area in Canada that otherwise would never receive credit in the game of basketball. Today, Henry becomes the first student-athlete from Saskatchewan to be selected to the Signature All-Canadian and BioSteel All-Canadian games which will be played on April 23rd and April 9, 2018 respectively. 
Henry is coming off of massive senior season with the Notre Dame Hounds out of Wilcox, Saskatchewan and was named the National Preparatory Association's Most Valuable Player, having averaged 28.1 point, 7.1 rebounds and 2.4 assists per game contest.
Henry's physical strength and athleticism set him apart from high school competition because he's so advanced in those areas. As you saw in the video, he gets to the rim at will and finishes often through traffic.
Normally, with high school seniors, there's an adjustment period and a strong off season focused on physical development, yet with Henry he's ready to play D1 NCAA ball today.
"I feel like I've sent a wave throughout the country and throughout the States in some areas, but I still got a lot of doubters to turn on my side. Not that it matters who doubts, but I'd rather more friends than foes," Henry expressed this morning.
From a defensive standpoint, his instincts and timing as a help side defender allow him to average nearly two blocks per game. Offensively, he is only scratching the surface and will thrive in a high level environment at the college level.
He led the Notre Dame Hounds to an undefeated season earning them a number-1 seed at the NPA Nationals.
"This whole experience at Notre Dame is truly special for me, playing alongside my best friend Fofo and Coach Huffman as our leader. Huff has been more than a Coach for me, he's been like my father and help me and my family through so much adversity. I've built lifetime relationships with teammates and coaches here at Notre Dame."
Jashon Henry has an offer from the St. Bonaventure Bonnies, who have been aggressive in recruiting him.
He's also flirted with the likes of New Mexico, Drexel, Tulane, Wisconsin and others.
Others are waiting to get involved as they have a look at him in person during the spring in April while he suits up with Canada Elite on the Under Armour circuit.
With all the film he's watched and the IQ developed this season as an Assistant Coach with Coach Huffman while they coached Team Saskatchewan at the U15 level, his mental state is in a very good place.
Coach Huffman, had a lot to say about this young man and was heartfelt with his thoughts about Jashon's last few years.
"The power, speed, agility, strength, he's the most special athlete I've been around. As a person… There was a time 3 years ago when I thought Jashon would not play basketball, he contemplated not playing. He went through a lot with his family for 7 years while his father was terminally ill. It would have been easy to throw in the towel."
"Claude (Jashon's Father) and I used to watch games of the Ontario guys and other top talent across Canada, and he used to sit there and say, my boy can go to work against these guys."
With this selection to the BioSteel All Canadian Game, Jashon Henry now has a chance to prove his dad right and show the rest of the country his game.