NPH Platform To Feature Elite Canadian Prospects In High Level Competition!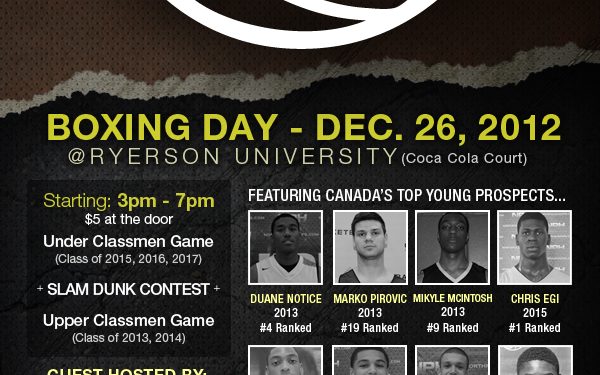 TORONTO, ON–What happens when the top Canadian prospects collide in competition under one roof?
At NPH, that is the question that is asked on a daily basis; pride, respect, energy…all elements that will be brought to the Second Annual NPH Platform hosted by Ryerson University.
The top prospects in the nation have been invited to participate in highly anticipated games for their respective age groups. Game one will be composed of the top underclassmen prospects in the class of 2015 and 2016.
Following game one, the PACKED house will be treated to an exciting Slam Dunk Competition which will feature a SPECIAL guest. The high flyers among the Platform participants will be selected to match their freakish athletic abilities with one another to the entertainment of the crowd; an event in itself that you do not want to miss!
To close out the evening, the top upperclassmen compete in game two of the NPH Platform.
The following video highlights the FIRST EVER NPH Platform last year, which featured several current NCAA and CIS freshman, along with a plethora of uncommitted talent.
[youtube NYX6o_PhLGE]
About the NPH Platform: Purpose
Opportunity: Canada's high level athletes display their talent in front of a home crowd and recognized internationally. LIVE stream will reach viewers from all around the WORLD and feed the rapidly growing NPH viewership.
Building Culture: How often does Canada have a chance to witness the depth of talent in this country? Not often. NPH Platform is a perfect chance for friends, family, fans and media to watch high level Canadian basketball up front.
Recruiting: Post-Secondary Coaches will be in attendance as well as tracking prospects through the LIVE stream, scouting the next crop of Canadians to their respective programs (NCAA, CIS, CCAA, JUCO).
Selection:
The NPH team aggressively tracks prospects around the country all year round by travelling to watch them compete in different environments, including high school, club, AAU, provincial and national teams. There are a multitude of factors that play a part in the selection process that is based strictly on basketball and athletics. It is important for our viewership to understand that politics DOES NOT play a part in the selection process and that ALL players on this list are deserving to participate in the NPH Platform.
The reality is that a great amount players across the country have the abilities to compete in this game, however tough decision have to be made, as only 24 prospects have a spot.
With that being said, players must approach the game and their development with the following: MAKE IT UNDENIABLE.
Stay tuned for release of the OFFICIAL prospect list at the NPH Platform! We have some exciting match ups in store for you.