Canadian 2023 Top 5 National Player Rankings by North Pole Hoops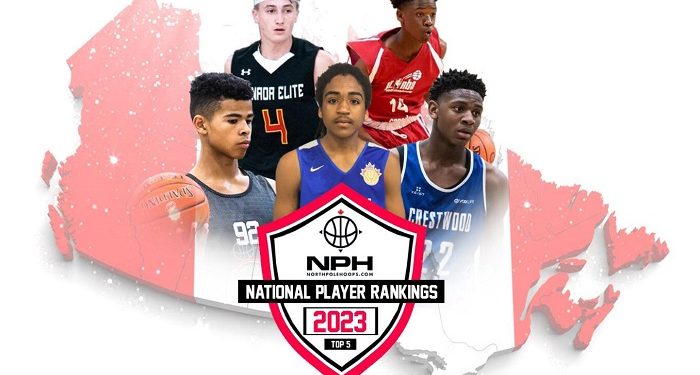 By now you would have seen Elijah Fisher, if not in person, than in one of the many highlight reels found online. He is undisputedly the #1 Canadian prospect in the class of 2023 as it stands.
Is he better than Andrew Wiggins was at this same age? Absolutely.
The leaping ability is comparable, but in the skill and strength department Fisher takes the cake. However, this edition of North Pole Hoops National Player Rankings is not all about one phenom.
The rest of the class is catching up and at an alarmingly rapid rate. The names below are ones that you can expect to be involved with this summer's National Team at the cadet level. Based on everything we have seen, these are the top five for the time being, yet with this such a young group prospects will rise and fall.
Names such as Augustus Brazdeikis (brother of current New York Knick, Ignas), Dylan Grant, Jaiden Cole, Adrian Uchidiuno and many others will be making their splash.
1. Elijah Fisher
With Jahcobi Neath now in Wake Forest Elijah Fisher is seamlessly stepping in as the number one option for Crestwood Prep. Playing against competition up to three years old than him, he often looks like the best player on the court. He's improved his handle, footwork and outside shot to catch up with his already dominant physicals and has become one of the best prospects Canada has ever seen in the process. Fisher is an NBA talent with bigger possibilities in his sights.
2. Jashemar Olembe
Jashemar Olembe plays with incredible poise and control for his age as the starting PG at the prep level for Royal Crown Institute. He's a high-level distributor in transition and the half-court who can also create for himself. Olembe already has a knack for drawing defenders off balance before attacking and knows how to use angles on drives. He's wise beyond his years.
There was a lot of hype around Jashemar in his younger days and that has passed. It's been a humbling experience and allowed him to refocus on what matters. With a further developed offensive skill set, we see a high ceiling for this guard.
3. Isaac Simon
Isaac Simon is all the way from Regina, Saskatchewan. He's met to face off with the aforementioned Fisher before and laid a 30 piece against his team. He's the brightest star the West has seen since the days of Jermaine Haley who is now at West Virginia. Simon will be putting on for Western Canada in a big way, as the whole of Canada is quickly seeing that Ontario is not the end all be all for prospects from the North.
Simon has the skill, strength and athleticism to measure up against the best and is expected to be in attendance for National Team camps in the near future. He's dropped the football pads and is falling for basketball full time. Although, being a multi-sport athlete has helped him develop his change of direction and physical strength. Laser focused and with ambitions to play at the highest level, we believe that he is on the trajectory to do so.
When it's said and done and the time comes for him to commit to an NCAA program we'll likely be looking at a 6'3 PG or bigger.
4. Anthony Wrzeszcz
No one in the class has a bigger set of mitts and the power that Anthony has. He is easily the strongest guard prospect we've seen in 2023 and that is going to help him go a long way. He's put a lot of care into his physique and is a real definition of a grinder when it comes to workouts and skill development. It all translates to the court as he's able to power through traffic and take hits while finishing with contact.
Standing at 6'3, he already has the handle and scoring package of a modern day point guard. There is major upside with this prospect, he would not surprise us if he ended up stealing the number one spot.
This year he has transferred from St. Francis Xavier in Mississauga and moved out to Ottawa where he plays for the red team of National powerhouse program Canada Topflight Academy.
5. Bronson Chambers
Bronson Chambers is an athletic two guard with a nice feel for the game. He scores with efficiency and can fill up the scoresheet from inside or via the long bomb. Chambers is another guy in this class playing at the prep level and looking comfortable doing so.
#
Player
POS
School
HT
WT
Commitment