Team Canada finished 3rd in Pool B, will face France in next round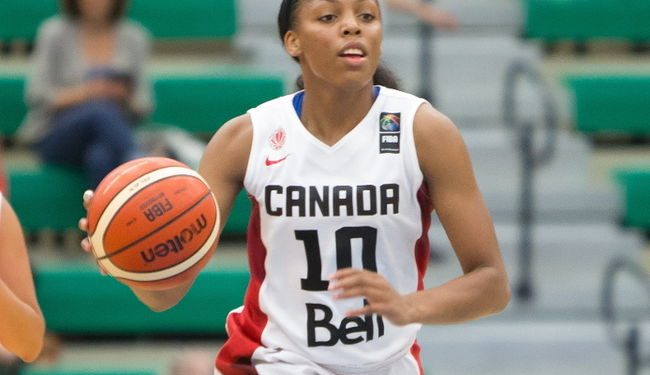 Team Canada's SWNT fell to Spain yesterday, losing 73-60 and falling to 3rd place in Group B. Tomorrow Canada advances to the quarter-finals where they will take on France, a team they beat in the USA Showcase exhibition right before heading to Rio.
Canada finishes 3rd in our group after falling 73-60 to #ESP. #Rio2016 #basketball pic.twitter.com/uf8x3SQt9Y

— Canada Basketball (@CanBball) August 14, 2016
"It's a long tournament and we just have to leave this one behind us. We have to be at our best come the game against France," said Canada's Head Coach Lisa Thomaidis. "France is an opponent we know very well. We've played them a number of times over the last few years and we'll be well-prepared for them."
Canada was led by Nirra Feilds who added 14 points and four rebounds, while Alba Torrens led the Spanish with 20 points and five rebounds.
With second place in Group B on the line the Canadians came out battling, trailing by just one to finish the first quarter. Through the second half the Spanish maintained strict defence and protected the rim with intensity, finishing the half up 33-29.
Spain started the third on a spirited 12-2 run, but Canada rotated in a trio of young Canadians to stop the bleeding. Kia Nurse, Natalie Achonwa, and Feilds came into the game to help claw Canada to back within two points to start the fourth quarter. In the fourth Spain's defence was the deciding factor, holding the Red and White scoreless for the first five minutes, and extending their lead to 13.
Tough one tonight. But we're on to the quarterfinals vs France on Tuesday! We're not finished yet! #ontothenextone #WeAreTeamCanada

— Katherine Plouffe (@KPlouffe21) August 14, 2016
The loss to Spain, although disappointing, comes against one of the top teams in the world. On the bright side it puts the team up against a team they've played recently and are familiar with, and keeps them alive in Rio and in the race for a medal.
The battle against France will take place on Tuesday at 9:15pm, and will air live on TSN.