Andrew Wiggins Leads Canada Over Argentina in National Team Debut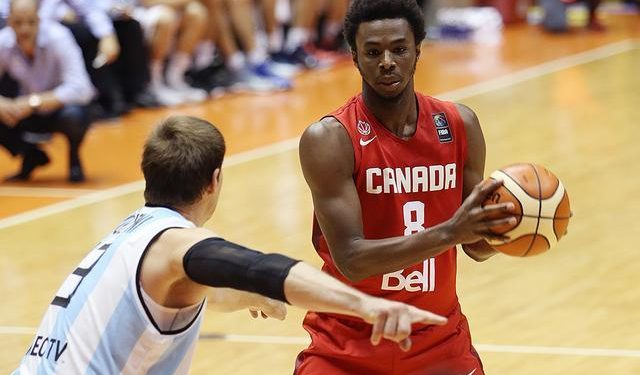 Canada defeated Argentina 85-80 to open the Tuto Marchand Cup, an exhibition tournament that will prepare the senior men's national team prior to the FIBA Americas Olympic qualifier.
The country's biggest star Andrew Wiggins lead the way with a team-high 18 points on 6-of-13 shooting from the field, in his Senior men's national team debut.
Anthony Bennett was also impressive as he recorded a double-double of 10 points and 13 rebounds.
Although known for his accurate shooting from behind the arch, Brady Heslip registered a game-high six assists.
Phil Scrubb, who Coach Jay Triano gave the start to at the lead guard position, finished with 12 points, five rebounds and three assists in 28 minutes.
Phil Scrubb or Olivier Hanlan at Back Up PG?
During this tournament, a major task at hand will be establishing Canada's back up point guard, behind Cory Joseph, who did not suit up for this very reason.
The battle for the final spot on the roster looks to be between Olivier Hanlan and Phil Scrubb; one starred in the CIS, while the other racked up accolades with Boston College in the ACC.
Scrubb has evolved his game over the years and has been on a gradual incline, illustrated by a dominant CIS Final 8 performance to complete his university career, and proving himself within the national team program. The 6'3 point guard recently signed with AEK Athens in Greece.
Hanlan was drafted by the Utah Jazz, and recently signed with BC Zalgiris in Lithuania. The Gatineau, QC product put up seven points and two rebounds in 12 minutes.
Beyond the point guard position, Canada will look to continue to develop chemistry and a solid rotation throughout this week.
Canada will take on Brazil at 5:45 PM EST on August 24. The game will be streamed on LiveBasketball.TV