Ontario All Catholic Classic Day 1: Young Bucks Lead Their Team to Semis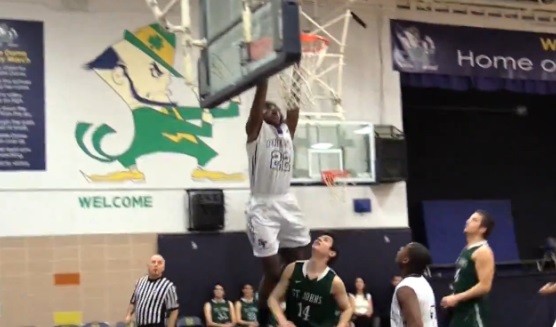 A word that is commonly heard and used to describe the All Catholic Classic is excellence.
As a basketball tournament that was introduced in 1975, the main purpose of the "Classic" was to unite the eight original catholic high schools.
The Classic takes pride in its ability to provide a competitive basketball environment, all the while still teaching the importance of friendship and camaraderie within the catholic and basketball community.
From its humble beginnings with players sleeping overnight on the church hardwood floors, or participating in the tournament dances, the Classic has etched itself into one of the premier high school basketball tournaments in all of Ontario.
Such as the excellence is displayed on the tournament side it always seems to bleed over to the hardwood as well.
Lets take at some of the highlights of day one.
Young Guns
Abu Kigab (2017) and Simi Shittu (2018) were both able to lead their teams into the semi finals at the Classic.
Kigab, who is quickly becoming the must see player at the classic, has made leaps and bounds since I last saw him at the 2014 Hamilton NPH Showcase
To go along with his six-foot-six inch frame, Kigab has put on some much-needed muscle, while seamlessly, not losing a step.
In his squad's first game against Brantford's St. John, Kigab showed off his athleticism by throwing down a ferocious alley-oop slam, bringing everyone to their feet.
But the attacking did not end there, as in his second game against Notre Dame Welland in their own gym, Kigab was relentless.
He scored 11 first half points, including two threes and eight points in the first quarter alone.
But just to make sure we all knew it wasn't a fluke, Kigab decided to match his first half total of eleven in the second half, instead this time he would score 8 points in the fourth and final quarter.
St. Francis went on to win the game 47-30 and will now play D'Youville in the semi finals.
Lucas Olsthmoorn and Aidan Hinds have also heavily contributed to St. Francis winning ways.
The six-foot-eight inch Olsthmoorn has been able to use his size to alter shots and rebound in the paint.
Playing at the point Aidan Hinds also brings a much-needed defensive punch to St. Francis with his great quickness, hand speed and hawking ball pressure.
When you have great defenders at the point guard and centre position, along with a scoring wing, you're going to be one tough team to beat.
The other young gun, Simi Shittu, also looked good during day one of the classic, as he was able to net 24 and 12 points in his two outings.
In his first game, Shittu displayed his long range shooting ability knocking down four threes as Corpus Christi rolled over Jean Vanier 65-48.
In his second game, Shittu and his Corpus Christi Longhorns solidified their way to the semi finals of the classic defeating Brebeuf 74-57.
After being knocked out by Brebeuf in the Silver Fox by a score of 65-43, the victory had to feel good for the Longhorns.
Yet, Shittu was not able to score a point until the second half against a tough Brebeuf team who were playing without their two big men Veron Kalonji and Max Hajdecki.
Gian Lumapas and Malik Richards helped Christi stay afloat until sleeping giant Shittu was able to wake up, as they scored 18 and 15 points respectively.
When the longhorns are playing as a team, encouraging each other, and showing positive body language they are definitely a force to be reckoned with.
Other results included a St. Michaels and D'Youville victory over Cathedral and St. Marys.
The results have not yet been posted as the games were played in different gyms, St. Michaels and Cathedral at Holy Cross, and D'Youville and St. Marys at Dennis Morris.
Semi-Finals
St. Michaels VS Corpus Christi @ 12pm – Dennis Morris 
D'Youville VS St. Francis @ 1:30pm – Dennis Morris