Steve Nash – Canadian Basketball Impact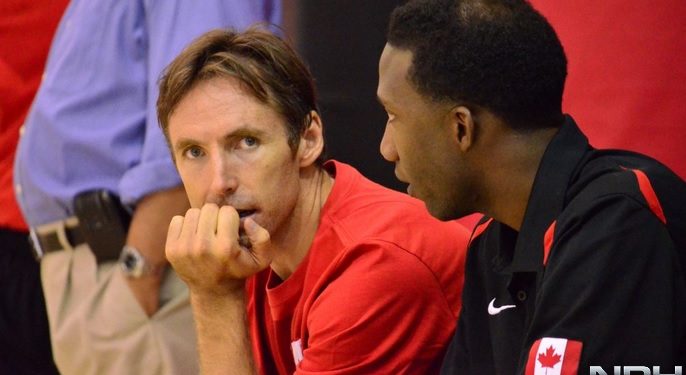 Steve Nash's 2014-2015 season has come to an end, and presumably, so has his basketball career due to a recurring back injury.
"Being on the court this season has been my top priority, and it is disappointing to not be able to do that right now," the 40-year old Canadian Point guard explained in a Lakers press release.
"I work very hard to stay healthy, and unfortunately my recent setback makes performing at full capacity difficult. I will continue to support my team during this period of rest, and will focus on my long-term health."
Nash's accomplishments seem never-ending and deserving of a Hall of Fame induction, beginning with the fact that the Canadian is one of only 12 players in NBA history to own two League MVP trophies, joining an esteemed list:
Bob Pettit, Bill Russell, Wilt Chamberlain, Kareem Abdul-Jabar, Moses Malone, Larry Bird, Magic Johnson, Michael Jordan, Karl Malone, Tim Duncan, Steve Nash, Lebron James.
John Stockton and Jason Kidd are the only other players in NBA history that have dished out more assists than Steve Nash.
And the list of accolades goes on.
Nash's story has impacted, and will continue to impact the careers of many Canadian basketball players.
The new school of Canadian basketball has big shoes to fill in representing the red & white in the big leagues.
The torch is now being passed to Andrew Wiggins & co, and while no one player can duplicate Nash's influence, the record number of Canadians in the NBA will collectively fill the void.
The end of Nash's basketball career looks to be a transition point into his duties as General Manager for Canada Basketball–to lead the nation on the international stage.
This time, as a point guard off the floor.
Reaction
So sad to hear the news about my good friend @SteveNash. Best wishes to you in your recovery man! #CanadianBasketballIcon #ChangedTheGame

— Nik Stauskas (@NStauskas11) October 24, 2014
I am deeply saddened for @SteveNash -at the very least he deserved to go out on his terms! An amazing story-celebrate his career! #2XMVP

— Leo Rautins (@LeoRautins) October 24, 2014
Been trying to find the words to say about my friend and teammate, Steve Nash for the past hour. He worked his tail off to come back. — Dwight Walton (@Bballinsider) October 24, 2014
Wishing our MVP, @SteveNash, a healthy recovery. pic.twitter.com/yAeh6aF20W

— Canada Basketball (@CanBball) October 24, 2014
There is no better or more important Canadian athlete in the last quarter century than @SteveNash. None.

— Doug Smith: Raptors (@SmithRaps) October 24, 2014
On Steve Nash — who went where no Canadian had ever gone before — finally coming to rest: http://t.co/sh5aXO20r8 @Sportsnet

— Michael Grange (@michaelgrange) October 24, 2014
Nash: Ranked No. 3 in total assists; 9 in APG; T-1st FT% (90.4%); 13th in true shooting%. Two-time MVP; 8-time all-star; 3-time 1st team AS

— Ryan Wolstat (@WolstatSun) October 24, 2014
Sad to hear about my guy @SteveNash such a hard worker and great guy. I know he'll help that team in many other ways.

— Kelly Olynyk (@KellyOlynyk) October 24, 2014