Brodan Thiel: An Unlikely Rise to Success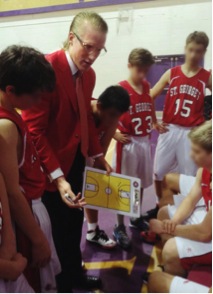 There's a simmering presence that falls over him when he's on the sidelines. Towering over his minions with his cumbersome frame, he anxiously paces back and forth. He remembers what people said. He needs to remember. As he calmly caresses his golden greasy hair backwards, he glances upwards: another win. Catching a glimpse of his crimson brick coloured blazer wrinkling over his waist line, he grins. There is no formal dress code here.
"I guess they let me wear it seeing as how I'm the new guy," he says, laughing.
Brodan Thiel's rise to success is as unconventional as they come. In a sense his apparel on this night is symbolic of Thiel's story. Thiel has been overcoming stereotypes all his life. It makes no sense to conform to conventional wisdom now.
A candid and unapologetic figure, Thiel is quickly building himself a solid basketball resume within the Vancouver community after successfully transitioning from player to coach in just a couple of years. But it didn't come easy; far from it in fact.
Back in his apartment following the game, Thiel turns on the television and immediately begins detailing the hardships that have formed him into the person he is today. He is not one to mince words.
"I never saw my dad sober, not a single day in my life. Changed my last name from Robertson to Thiel because of him. Haven't spoken to him in four years; it's for the better," he says.
As memories bounce back in his mind. He recalls having to work full-time at fourteen simply so his family could get by. In remembering his story, there is definitely hurt in his voice but also an unrelenting passion for the game of basketball which persists to this day.
"We were put into co-op housing when I was just beginning high school. It was really tough, not knowing if we were going to eat every night, where we were going to live. I remember sky training for an hour every day to school with one thing in mind: basketball. I just wanted the opportunity to play."
As the interview continues he reclines back in his chair. Thiel squints at the TV through his thick oval glasses. The Brooklyn Nets are playing so there's one guy in particular that has him giddy tonight: Reggie Evans.
"I always idolized those grinder guys. Rodman was my favourite. I wanted to be like him (laughs); never was into the pretty boy scorers, "Thiel says with his eyes closely following the action on the screen.
"There's something so respectable about a guy doing the dirty work and being able to carve out that role just because that's what your team needs. It's like the job that no one wants to do."
It's only fitting that a person of such a challenging upbringing would clamour to fill such a rugged role. Unfortunately for Thiel, despite his zealous attitude, even his high school coach at Carson Graham didn't think he could fill this niche as he was cut in his junior season (Gr.11).
During his Gr.12 year he dropped out of high school entirely. Having to live on his own and fend for himself since he was 16 years old, Thiel was finally starting to feel the financial strain. He needed money or he would be evicted. He would be homeless.
Thiel has felt many emotions in his 26 years: hope, anger, disappointment, joy and despair. But tonight it's clear that there's one feeling in particular that has taken him over: nostalgia.
"Everyone questioned me," he said.
"As far as playing went, I always thought I could play college basketball but no one else did. Family, friends, coaches—they all doubted me. They all thought I wasn't good enough."
Thiel would have his college playing experience but it wasn't without its lasting pains—a reoccurring theme for him by this time.
He had a one year stint with the Camosun College Chargers in the PACWEST (British Columbia, Canada) conference before bowing out for the season because of a season ending injury. That didn't matter to him at this point. He had proven to himself that he could make a roster at the next level. Something he didn't take lightly.
"It was a long journey to even make it to college, let alone play collegiate basketball. The numbers were against me. It's a surreal experience knowing I accomplished it. I played college basketball."
As the Nets game continues to play in the background, Thiel continuously smirks and glances at the television. Evans has 9 rebounds by this point in limited action. It is almost as if Thiel is vicariously living through Evans's success on the big stage. He appreciates the hard work, the "lunch bucket" mentality. Two attributes which Thiel himself regularly displayed during his college playing career.
Following Thiel's short stint with the Chargers, he would go on to play for the Capilano University Blues (North Vancouver, BC) for the next two seasons. But it was with the Quest University Kermodes (Squamish, BC) in his subsequent three seasons of eligibility where Thiel really would make his mark.
Emerging as one of the league's better rebounders in his three seasons with the squad, Thiel finished in the top ten in rebounds per game for two of the three seasons he was with the Kermodes. He also finished in the top in five in school history for rebounds per game average.
Throughout the night, Thiel overemphasizes the importance of the grinder, almost as if he is trying to convince himself of their worth to a team, and his worth to his former squads. It may be the only way of coping with the fact of what basketball has done to his body.
A reoccurring hairline fracture, repeated torn ligaments, and stretched tendons in his ankle which were severely worsened from playing renders Thiel unable to play even the lightest games of pickup basketball anymore.
"Just had to play through it," he says proudly justifying the state of his decrepit body at 26 years old. "I had to finish it for my teammates and the fans. I mean, we did get the first medal in school history. "It was a bronze.
Following his playing career, Thiel successfully transitioned into various coaching roles. Last summer, he was appointed as an assistant coach for the U17 Basketball BC team. In 2006 he was an assistant for the Carson Graham high school women's team, helping them to a 9th place finish—their best finish to date.
However, it was his experience last summer as head coach with the U15 East Van regional team that Thiel attributes for his maturation as a coach.  In being the head coach, Thiel finally was given the opportunity to make his own play calls and incorporate a coaching philosophy that was all his own.
"I was really nervous to begin. I just tried to put in things I had learned from former coaches, researching, reading, and being a student of the game. Luckily I more than held my own."
Thiel would go on to beat a basketball BC hall of famer coach and won the silver medal in the process—the first time East Van have medaled in over 20 years.
Just this past summer, Thiel was recognized for his coaching success and was named the head coach of the St. George Saints junior boys' basketball team (grade nine) (Vancouver, British Columbia). A former co-op housing recipient and one of the most prestigious and pricey private schools in all of BC: seems like an unlikely and odd pairing.  But overcoming the odds is what has defined Thiel since the beginning.
Thiel is now attempting to instil the confidence and skills needed for others to succeed. Recently, Thiel applied to the University of Missouri Masters program in positive coaching. He is hopeful he will be accepted in the near future.
Currently, he is in the process of completing his teaching degree at Simon Fraser University through a North Vancouver elementary school.
"I get to spend so much time with them by the nature of my job. I'll have an impact on their lives and I'm going to make sure it's a positive one. It's amazing being able to be a role model for others. I don't take it lightly. "
Thiel chased his dream of college basketball but he did it on his terms: by using basketball as a vehicle for success. In chasing his dreams, Thiel overcame immense economic and societal barriers and earned himself a college education and a bevy of solid career prospects moving forward.
Role model, teacher, coach, and former collegiate basketball player, Thiel has definitely done well for himself given the initial circumstances.  He's determined to continue it.
"I feel like I can accomplish anything now if I really apply. I'm really looking forward to the future. That's not something I could have necessarily said several years ago."