Canadians in NBA: Kelly Olynyk Finishes With Season High in Rebounds & Minutes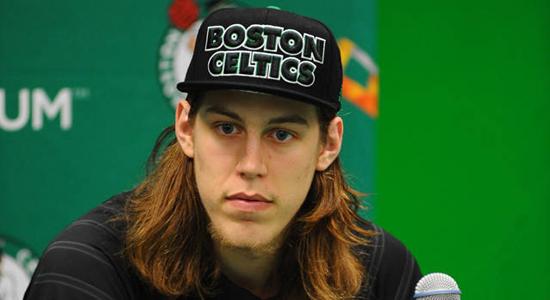 It was a fairly quiet night for Canadians in the NBA on Wednesday Nov. 13. There were five Canadians in action, with Boston's Kelly Olynyk standing out as the top performer. North Pole Hoops continues to track Canada's brightest stars in the NBA.
Tristan Thompson
After putting up three straight double-doubles for the Cleveland Cavaliers, Tristan Thompson cooled off as his Cavs fell 124-95 to the Minnesota Timberwolves.  Thompson scored 10 points on 2-7 shooting while knocking down 4-5 from the free throw line.  He also grabbed six rebounds while dishing out two assists in 24 minutes on the court.
Anthony Bennett
After sitting out the Cavs' Monday night loss to the Chicago Bulls, Anthony Bennett responded with his best game for the Cavaliers this season. Bennett is still not in top shape, but was able to score six points while picking up five rebounds. The UNLV product shot 3-11 in his 20 minutes of playing time, which is the most time he's see on the court this year.
Kelly Olynyk
Kelly Olynyk, who has now become the Celtics' starting centre, had an up and down game Wednesday as Boston lost 89-83 to the Charlotte Bobcats. Olynyk scored six points on 1-4 shooting, while going a perfect 4-4 from the charity stripe. The Kamloops, B.C. native also grabbed 11 rebounds in his 33:17 on the court-both of which are season highs.  Olynyk also turned the ball over four times while committing four personal fouls.
Andrew Nicholson
Andrew Nicholson received limited minutes Wednesday night, scoring two points, and grabbing one rebound in 3:05 on the court.  The Orlando Magic beat the Milwaukee Bucks 94-91.
Cory Joseph
With the San Antonio Spurs dominating opponents early on this season, Cory Joseph played in his third straight game off the bench as the Spurs beat the Washington Wizards 92-79.  Joseph played 8:25 on the court, scoring one point, grabbing one rebound, and picking up an assist.  He committed three fouls, two turnovers while shooting 0-3 from the field and 1-2 from the free throw line.
Looking ahead
There are no Canadians in action Thursday night with only two games scheduled. On Friday, Nov. 15, Kelly Olynyk and the Boston Celtics take on the Portland Trailblazers. Tristan, Anthony and the Cavaliers host the Charlotte Bobcats. Two Canadian big men will go face to face with Samuel Dalembert's Dallas Mavericks and Joel Anthony's Heat playing in Miami.
Finally, in what is looking like a complete mismatch, the 8-1 San Antonio Spurs tip-off against the 1-8 Utah Jazz; expect Cory Joseph to see some minutes on the court. Meanwhile, Steve Nash will not be playing due to injury as his Los Angeles Lakers take on the Memphis Grizzlies.  Robert Sacre remains a reserve for the Lakers.